For Markeeta Douglas, being summoned to the stage to collect the Aboriginal and Torres Strait Islander Student of the Year Award in November last year was a shock to say the least but thanks to professionalism and determination, Markeeta was a justified recipient.
Seven other state finalists travelled to Perth for the awards, bringing their impressive achievements with them but in the end Markeeta was the "most outstanding Aboriginal and Torres Strait Islander student in Australia".
"When I went over for the national awards and I was competing against all the other State and Territory winners, I didn't think I had a chance but it was exciting to know that there are so many young Aboriginal people doing amazing things," she says.
"As I got to know them, I absolutely counted myself out. Some of these people had only just turned 18 and were doing incredible work. When they called my name the night of the awards I was completely shocked but I feel really excited and very proud that I was able to represent NSW, my community, my culture and do my family proud."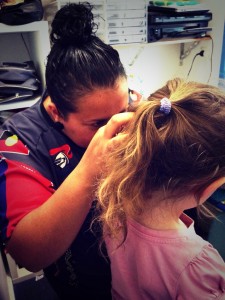 Thirty-year-old Markeeta is passionate about health and studying for her Certificate IV in Audiometry put her on the path for the award.  At TAFE WSI (Western Sydney Institute) her teachers thought she was "worthy of a nomination" for the Student Excellence Award – which she won. From there she won awards on the regional and State level before taking out the national award.
With her mother battling kidney failure, she was constantly exposed to the healthcare system as a child which sparked her interest in a career in health. Becoming a mother and seeing her son going through constant middle ear infections (Otitis Media), she decide to apply as an Aboriginal Health Worker.
"When I was young I suffered with middle ear infections terribly and then when I had children myself my four-year-old, who's now 11, had to have grommets ("tympanostomy tube" inserted into the eardrum to allow air to pass through into the middle ear, and release pressure build-up and help clear excess fluid). That was terrifying – being a really young mum and having to see him go through surgery and have an anaesthetic," she says.
"A position came up at my local Aboriginal Medical Service and I had no actual experience. All I had was genuine interest and that must've come across in the interview because they gave me an opportunity to take a position and, since then, I absolutely love it. I can't imagine doing anything else," she says.
She currently holds a position as an Audiometrist – meaning that she specialises in the non-medical assessment and management of communication difficulties caused by hearing loss – at Awabakal Newcastle Aboriginal Co-operative. She left that position for a while to serve as the Aboriginal Otitis Media District Coordinator at Hunter New England Health.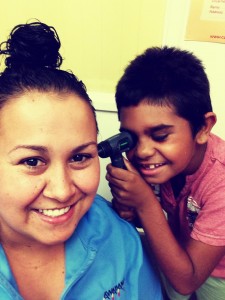 Markeeta later returned to Awabakal because of the hands on work and currently help numerous children and parents in the treatment of ear problems, namely Otitis Media.
"The mindset of a lot of people in our community, and not just here locally but across NSW, is that ear infections are a normal part of childhood, but it's not. Otitis Media can have lifelong impacts because if the children can't hear they can't learn and if they can't learn it results in poorer educational outcomes which can result in poor employment outcomes and the cycle continues," she says.
"It can lead to serious viral infections and even in some cases death. So it's not a normal part of childhood and people don't grow out of it. It's actually a really serious disease and it's a preventable disease."
For now, Markeeta will carry on her work and continue to help as many as she can and has ambitions of possibly becoming an Audiologist (health care professionals who are trained in the diagnosis, treatment and management of hearing loss, balance disorders and other associated conditions) in the future.
"I definitely want to continue in the hearing health world. I'd love to become an Audiologist because I know there are only three in Australia and not all of them are practising. I have looked at different pathways and how that might look in the next five years," she says.
"I feel that so much more work could be done if I were to take that next step."