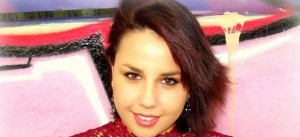 Growing up in Tamworth, northern NSW, has its pluses – like access to Australia's biggest country-music event and plenty of talented musicians. There's no doubt that  19-year-old country musician Loren-Jade Ryan, is in the right place. Keep an eye out for this great young talent.
This year, at the Tamworth Country Music Festival, Loren-Jade performed at the Aboriginal Cultural Showcase for the third time. She has also appeared at the Yabun Festival and at the Saltwater Freshwater Festival, so she's becoming accustomed to big crowds.
"I still get nervous, especially in front of a big crowd, but it the nerves aren't there then you don't love it, I reckon," she says.
Loren-Jade was fortunate to be able to perform with some country legends on the Showcase stage, including Roger Knox.
"There is pride and excitement playing alongside him. I just feel important and a little bit famous performing with him. He is a great inspiration and a really great mentor to me," she says.
Loren-Jade says one of her main influences is also Roger Knox's son, Buddy Knox.
"He has been there for me since I was 14 – both mentoring me and helping me out," she says.
"Another major influence is Beyoncé. All of my stagecraft and stylistic features I have learnt from watching her."
Loren-Jade taught herself to play guitar and ukulele, and she writes songs on both of these instruments.
"People love the ukulele – maybe even more than the guitar. I did some busking on a ukulele in Tamworth and the crowds just gathered around me," she says.
She is planning to record an EP later this year, too, and touring to promote the album after that.
"I am recording an EP with eight original songs and maybe some covers as well. It will probably be self-titled. The songs are ready to go," she says.
This was Loren-Jade's third year playing at the Tamworth Showcase. She has also played at the Saltwater Freshwater Festival in Port Macquarie.
"I am starting to do a lot of those big festivals. I am getting to know the coordinators and managers and agents. Last year I started managing myself. I am trying to get some regular gigs both here and out of town – just doing anything to get my name out there," she says.
"I just got back from Redfern where I performed at Yabun. There were about 20,000 people in the audience. It freaked me out! I was on the 'Young, Black and Deadly' stage. A scout from Australia's Got Talent gave me his card and asked me to audition – I said I'd think about it. Another bloke who has an underground rap band asked me if I wanted to be part of it. Some crazy opportunities came from that," Loren-Jade says.
Apart from playing music, she has been working full-time at a bank, saving money to help fuel her dreams. She has also been accepted into the Australian Institute of Music in Sydney. So while Tamworth is the place she calls home – the city is beckoning.
"Tamworth is a great place to live, especially during Country Music Week – they have jams in various bars and songwriter nights. You never know who's at those things," she says.
"But it looks like I'll be getting some more time for my music very soon. I could be moving from Tamworth to Sydney to study Arts Management through the Australian Institute of Music. I was accepted at the start of 2012, but I had to work for 12 months to save some money. I have everything in place now and have been accepted again into the Institute, so this year has got off to a great start."