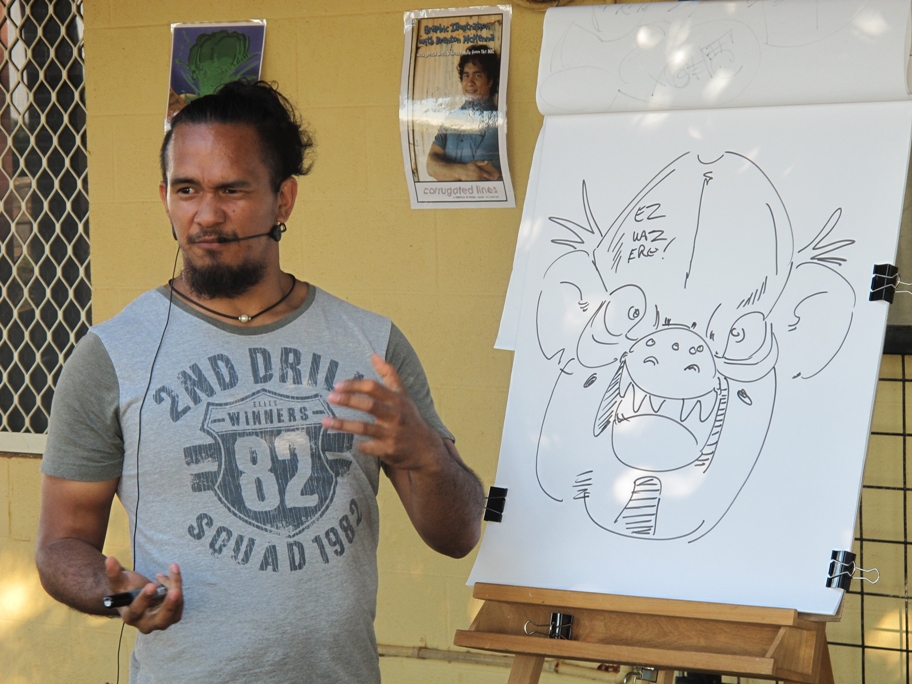 Yawuru graphic novelist Brenton E McKenna has just published the Ubby's Underdogs sequel through Magabala Books, which is guaranteed to take readers even further into the mysterious, multicultural world of post-war Broome.
Published in 2011, Ubby's Underdogs: Legend of the Phoenix Dragon was the first instalment in Australia's first Indigenous graphic novel trilogy. The sequel, Ubby's Underdog: Heroes Beginnings, returns to 1940s Broome, where Ubby and her gang of Underdogs are once again caught up in adventure and mayhem.
Brenton, 31, describes his central character as a 'tough girl', the leader of a street gang of outcasts from different multicultural groups.
"She's still quite young, feisty and streetwise; definitely a good guy and her good heart is constantly being tested, but she's not easily rolled," he says.
"In this book, the Underdogs set out to find their missing friend Sai Fong but are thwarted by the conniving and ambitious Pearling Master Paul Donappleton. The local authorities are also looking for Sai Fong. Broome in the 1940s was quite corruptible and was recovering from World War II. Everyone in the book has crossed interests, but the Underdogs have a genuine interest in protecting Sai Fong."
Writing and drawing are not new to Brenton. He grew up reading comic books and illustrating his own stories as a young boy. He draws his interest from the melting pot of cultures and the dynamics of Broome. "That saying that truth is stranger than fiction certainly applies to Broome. The multicultural perspective is part of who I am in Broome, and my family's cultural heritage."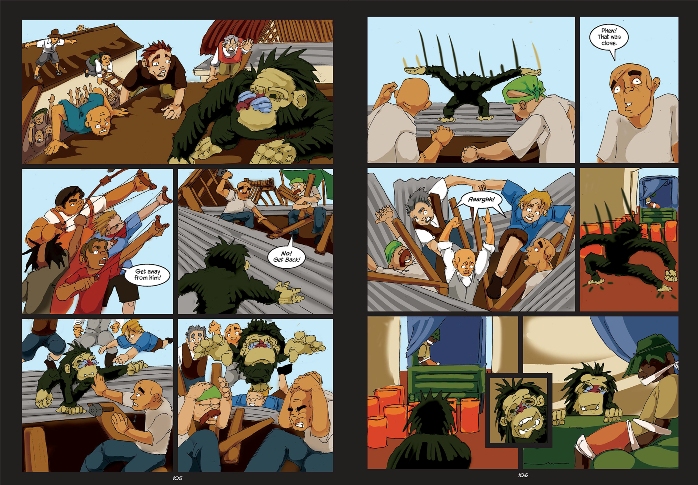 Brenton struggled with literacy as a boy and turned to comic books and what he describes as 'visual literacy' as a way of getting past the difficulties of trying to read mainstream books. It worked, giving him the head start he needed and he went on to graduate top in his English and Fine Arts subjects in Year 12.
"Graphic novels are priceless. I don't read many books still but have a collection of 4,500 comics. Visual literacy is what got me through and I was lucky enough to have one teacher who approved of comic books and let me read them," he says.
"I was recently asked to record a conference with visual art and I did that with illustrations and minimal words to produce an overview of the entire conference. It's really like modern hieroglyphics and political cartoons where you are using visual art to tell a story."
But it's all about finding the balance between illustrations and writing, and both are equally important.
"I never want to completely ignore words and I work with both. When I have writer's block, I scribble and draw, then go back to the words."
The character of Ubby is inspired by Brenton's grandmother, a strong Aboriginal woman who knew how to look after herself. He grew up hearing her stories and was drawn to the post-war era of Broome.
"There was a lot of tension in Broome, which forced so much drama. The tensions between the Japanese and Indonesian pearl divers and Aboriginal people, and racial riots and forbidden loves – the pearling industry created its own identity," he says.
He is also fascinated by myth and legend and this interest has found its way into Heroes Beginnings through the discovery of an ancient scroll, which pushes the Underdogs into a race to unravel the truth for all involved. Broome, with its myths and ghost stories, again inspired this focus.
"There are a lot of ghost stories and interesting legends in Broome because a lot of cultural stories are mixed with the original Broome culture. I love looking into folklore," he says.
There is one more graphic novel to come in the trilogy but Brenton is not giving too much away other than to say that a lot will change for the Underdogs in book three, and there will be one big street fight.
But the character of Ubby won't end there because Brenton wants to continue her story through her teenage years and into adulthood. His dream is also to see Ubby and the Underdogs brought to life through either a television series or animated film.
"There have been talks, and I'm focused on getting the third book out. To see it animated, well that would be so cool," he says.
To find out more about Brenton and the Ubby's Underdogs series, head to Ubby's Underdogs.