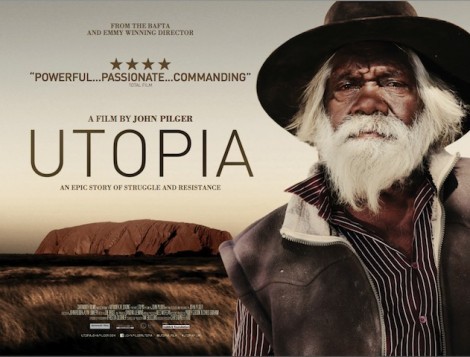 The Museum of Contemporary Art Australia will host the Australian launch season of award-winning documentary maker John Pilger's new film 'Utopia' which traces the political and social history of Australia's Indigenous communities.
Free preview screenings of the feature documentary will take place on 21, 22, and 23 January 2014 in the MCA's Veolia Theatre, with a special panel discussion following the final screening on 26 January.
Joining John Pilger on the panel will be Indigenous activist and film actress, Rosalie Kunoth-Monks and Indigenous editor of Tracker magazine, Amy McQuire.
Award-winning television journalist, author and filmmaker Jeff McMullen will guest chair the panel discussion.
Written, produced and presented by John Pilger, Utopia is the Australian filmmaker's fourth documentary on Indigenous Australia and includes interviews with those he first met during the making of his seminal film 'The Secret Country' in 1985.
A vast region in northern Australia, Utopia is home to the oldest living culture in the world.
"This film is a journey into that secret country," says John.
"It will describe not only the uniqueness of the first Australians, but their trail of tears and betrayal and resistance – from one utopia to another."
Utopia is scheduled for national release in late February 2014, following its critically acclaimed premiere in London last October.