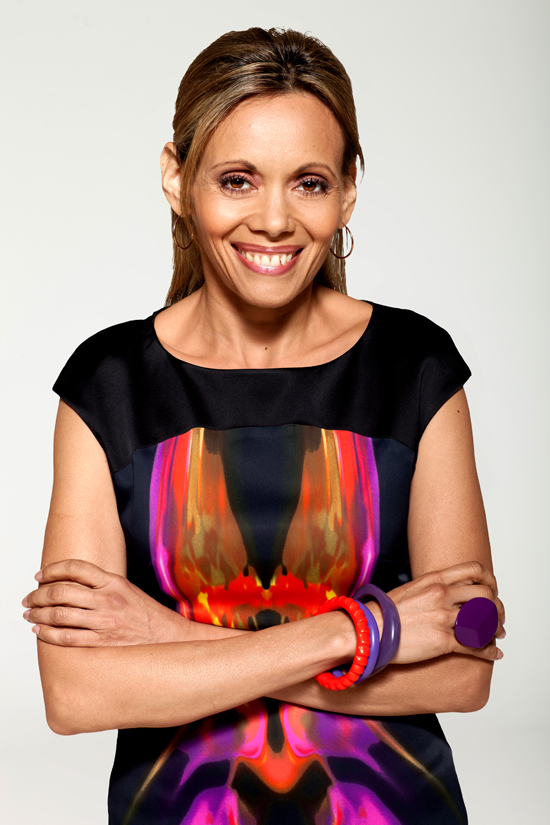 Living Black has been reporting on current issues from an Indigenous perspective for 10 years NOW. Deadly Vibe recently caught up with the show's Executive Producer,Karla Grant, who has been with the program since its inception.
We asked her for some of the program's highlights over the past 10 years. Karla started at SBS more than 18 years ago with the Walkley Award-winning ICAM (Indigenous Current Affairs Magazine) program. In 2002, she was appointed Executive Producer of the Indigenous Media Unit and developed the concept for Living Black. "I first started working here on ICAM as a reporter and producer and director, and I later became a series producer,"says Karla. "I presented for the last two years of ICAM before management changed the program and asked me to come up with something else. I came up with the concept of LivingBlack in 2002. It went to air in March 2003 – the actual 10th anniversary was 25 March this year, but we are celebrating the 10th anniversary all year."
Karla says the show has changed dramatically over the years. "When we first started we were covering everything from news to in-depth pieces, the arts… everything we could do in half an hour because there wasn't anything else around at that time," she says. "Because there was no Indigenous news or current-affairs program, we felt it was our duty to be covering everything to get all of that information out to communities. When we first started we were based in local production and that folded a year after the first series. "The program has evolved significantly since we started. We have moved from covering lots of Indigenous news and current affairs across Australia to focusing more on in-depth coverage of topical and ongoing issues, such as social justice, health, housing and employment; as well as covering stories of positive achievement." "I moved the team down to News and Current Affairs in 2004. Since then it has become a much stronger, harder-edged program. We are a lot more mature with the way we cover stories. We have been honing our skills over the years – the way we report on stories and our treatment of various interviews."
Karla says Living Black was one of the pioneers of video-journalism. "No one was doing it when we started doing it 10 years ago except for Dateline. We were ground-breakers in that area, and now many places are getting their journalists to be multi-skilled: journo, cameraperson, soundperson, all in one," she says. "Our journalists travel right across the country on their own with their little cameras and it is tough being on the road by yourself without the support of a crew, but it allows them to really get into communities and get their stories and be quite sensitive about getting them as well because people aren't as scared to talk to you when they only see one person. "So it is especially effective for getting the inside story. Aboriginal people around the country are very wary of the media because they have had a hard time with various media in the past. They get wary of big camera crews coming in. "We have built up our reputation over the years – there is nowhere we have not been allowed access to. They know that they are going to trust us because we respect them and we are sensitive with the issues, as well as being fair and balanced. "Being Indigenous, we know that many of these issues are sensitive and there are various viewpoints to be represented. There are many voices for Indigenous people. We're careful to ensure that everyone has a say and that they can use this show as a platform about the various issues they face and how they are going to tackle those and work with various government organisations to improve the plight of our people."
Karla says social media has also taken off so much in recent years and Living Black has tried to stay ahead of the game. "We are using YouTube, as well as Facebook and Twitter and Instagram. We are everywhere – if you can't catch us on the telly, you can get us on your iPhone," she says. "Video journalism has also been very cost-effective – we are all fighting for more money, but SBS has been very good at it. Covering the whole of this country can be expensive. Karla says SBS also
has a good record of training people up over the past 10 years. "We have a Cadetship program each year. A lot of our people have moved on to NITV. We have been leaders in this area. Newsrooms right across the country are using video journalism as well now to put stories on their websites," she says.
Karla says the move from NITV to SBS has been a positive change because it already had a lot of the infrastructure for making television in place. "The beauty of being at SBS is that they have had an increase in funding. NITV moved into an organisation that already had structures in place, so they didn't have to spend money on getting certain things happening or built," she says. "So now for the future, they are focusing on working with communities and independent Aboriginal and Torres Strait Islander producers and directors to make fresh content for the channel. Some of these new programs include documentaries, lifestyle shows and more with language programs. "We are giving the community what they want – NITV Channel Manager Tanya Denning went around the country holding stakeholder meetings last year, asking communities what they wanted to see and letting them know what has happened with NITV. "It is an exciting time – NITV has had to survive from year to year and now they don't have to worry about that. They can just get on with making good TV. Living Black and the news team are now called INACA (Indigenous News and Current Affairs) and we're working closely together to ensure that we get a good daily news service out to our community. We also have Living Black to do those more in-depth stories as well. There is a lot of good quality news and information getting out around the country. "I'm looking forward to continuing to bring these stories to light and am excited about joining forces with NITV and together becoming a real force in telling Indigenous stories to all Australians."
With Karla at the helm, the Living Black team includes video journalists Allan Clarke, Larteasha Griffen and newcomer Hannah Hollis. Living Black is on Tuesdays at the new time of 7.30pm on NITV; and on Fridays at 2.30pm and Sundays at 1.30pm and 4.30pm on SBS ONE. View Living Black online at sbs.com.au/livingblack check out the You Tube channel SBS Living Black; follow @livingblack on Twitter; and share your stories on Facebook at SBS Living Black.