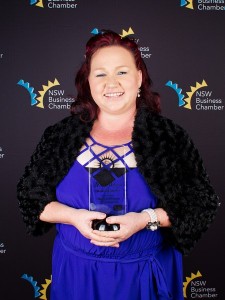 Chief Executive Officer of a leading natural Aboriginal skincare and health food line, Sharon Winsor has recently made history as the first Aboriginal woman to take out the state's top honours winning the 2013 Business Leader of the Year award.
The NSW Business Chamber State Business Awards are open to all business owners in the state and to even be nominated is a great success.
Based in Mudgee, Indigiearth is a business built on natural Australian Aboriginal skin care and food products. Sharon has been involved in business since 1996 providing employment skills and income to Aboriginal communities.
"Much of the success of Australian enterprise is rooted in the land and that is a value that Aboriginal people understand very well. I'm proud to be able to use my cultural traditions to build a successful business and I'm very honoured that my peers in the business community have recognised that hard work," Sharon says.
"Indigiearth has touched the lives of many, through new employment opportunities, educating the wider community about Indigenous Australia and culture, and I hope that accolades such as this are drawing attention to the successes of Aboriginal Australian entrepreneurs and inspiring more."
She supplied her skin care products to the famous talk show host, Ellen DeGeneres on her Australian trip earlier this year, and has been working with QANTAS to develop an Australian amenities kit for international flight services.
Indigiearth is also the first Aboriginal company to supply bottled spring water from the Central Coast Kulnura area which is a culturally significant site for Aboriginal Australians.
At the NSW Business Chamber State Business Awards, Sharon and her business were up against other industry leaders including; Blue Eco Homes, GBD Advertising Pty Ltd, Ipera Communications, Macquarie Waters Boutique Apartment Hotel, Hume Building Society, Sauce Communications, Tamworth Community College, Attache Software Australia, RBK Nutraceuticals, Martin Property and VitaMan Global.
NSW Business Chamber Regional Manager for the Central West Orana, Vicki Seccombe, said it was exciting for Sharon to be recognised with such a prestigious award.
"Sharon Winsor has a great story to tell and it's fantastic that we have the opportunity to honour her dedication to her community and the pursuit of business that can change people's lives for the better," Ms Seccombe said.
"I hope the Business Leaders Award encourages and motivate more of our NSW Business Chamber members and members of the Local Chamber Alliance to strive for excellence and to be recognised for it by their peers."