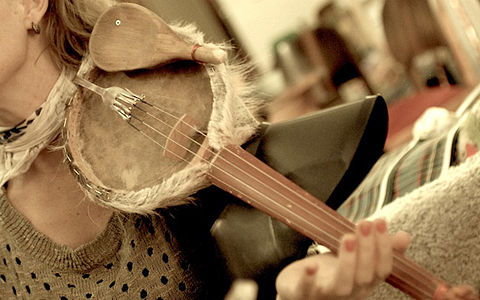 Ngangwurra means heart is an exciting new production by Australia's powerhouse of contemporary Aboriginal music Black Arm Band together with the Melbourne Symphony Orchestra (MSO) that premieres this month.
The production provides viewers with a visually spectacular and aurally magnificent show that spins a magical musical yarn about what it really means to be Aboriginal or Torres Strait Islander in Australia today.
Ngangwurra means heart will present seven new musical works performed in five Aboriginal languages by a stellar line up of 30 artists including Emma Donovan, cabaret singer Mindy Kwanten and Black Arm Band artistic director Lou Bennett.
Lou chose themes that explored the misconceptions and myths of Aboriginal people and broke them down into seven important moments in the history of Aboriginal Australia: Before, Touched, Ngangwurra, Us, Survival, Beyond and Freedom.
"Aboriginal identity is sometimes misunderstood in the wider community. We are not the same! We are a collection of nations of individuals," explains Lou.
"Each nation holds different language, country, ceremony and culture and the production explores seven important moments in history for Aboriginal Australia from an internal empathetic point of view rather than a dry history lesson.
"Pre-European contact, first contact, survival, protest, community, future dreaming – are all woven together in a kind of lyrical visual and musical journey.
"Our new collaboration with the MSO will surprise and entertain and also encourage audiences to experience our reality; with open ears, eyes, and hearts."
Drawing from the land, instruments such as bush violins, kenkeni drums made from water drainage pipes, a xylophone made of large steel pipes, tuned tyre rims and witches hats were made celebrating the link between traditional and contemporary music.
"We are delighted to be partnering with Black Arm Band to present this enchanting new work which celebrates the contribution of Aboriginal culture and music to contemporary Australia," says MSO Managing Director, André Gremillet.
"Ngangwurra means heart is a creative response to the MSO's quest to find unique musical territories, language and performance formats to share between Indigenous Australian culture and the traditional Western Classical art form."
The world premiere of Ngangwurra means heart is on Saturday 30 Nov 2013, Princess Theatre, Melbourne, VIC.