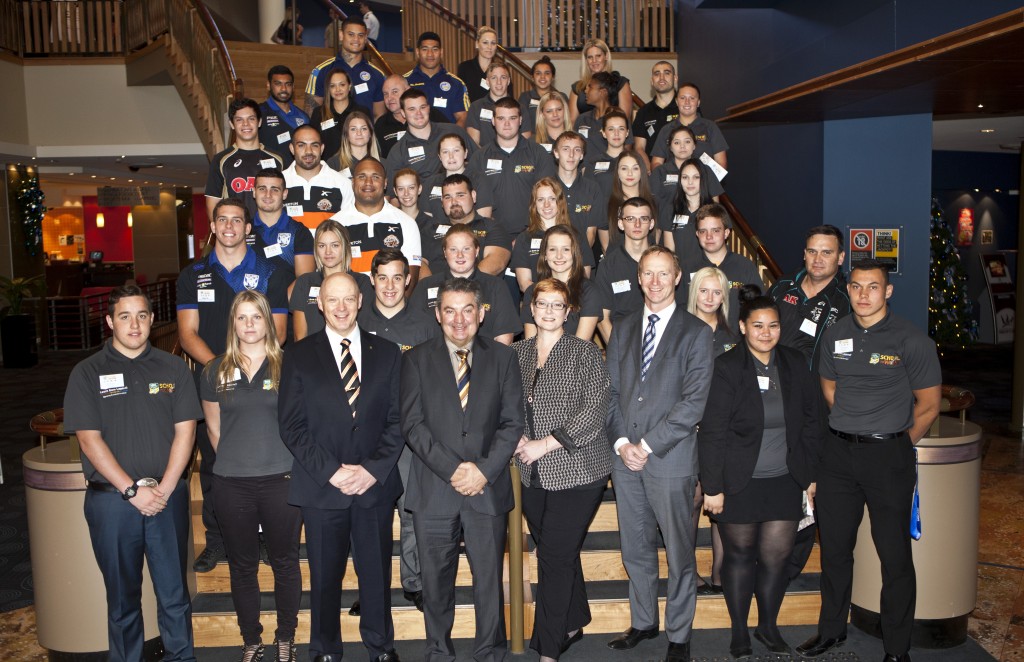 The 'Learn Earn Legend! School to Work' Western Sydney program has a new record achievement of 96% of 2012 graduating students gaining employment.
A further 92.3% of the 2012/2013 students who attained their HSC received marks well above the National average.
The 'Learn Earn Legend! School to Work' is a joint initiative between the NRL and the Federal Government and at a recent presentation Senator Marise Payne, Minister for Human Services, paid tribute to the graduates on their achievements.
"I am highly impressed at the calibre of this year's graduates. They would be valuable assets to any employer, regardless of the profession or trade they choose," Senator Payne says.
"The 96 per cent success rate of last year's graduates going on to further education or employment is testament to the effectiveness of the 'Learn Earn Legend! School to Work Program'. I'm sure this will be a good omen for this year's graduates.
"I'd also like to congratulate the project officers and program manager for inspiring and motivating these young people and giving them exposure to our great game of Rugby League.
"The NRL does a first-class job in growing not just Rugby League but the communities where it is played and I look forward to helping them continue this important work in my role as co-convenor of Parliamentary Friends of Rugby League."
The 'Learn Earn Legend! School to Work' program was developed to create successful career pathways for Indigenous students in year 11 and 12 in participating schools across Western Sydney.
The program is a combined effort of the NRL, the Department of Education, Employment and Workplace Relations and other western Sydney-based Rugby League Clubs.
The NRL General Manager of Strategy and Investment, Shane Mattiske also spoke at the breakfast of the importance of ensuring that programs like School to Work continue.
"We support the current review of all Indigenous education and employment programs currently taking place under the Federal Government and have been actively engaged in these discussions," he says.
"We are proud of the successful partnership that we've created with the Federal Government, training providers, corporate and schools and clubs to deliver real benefits and outcomes for these people."
This year, 60 successfulIndigenous students successfully completed the course belonging to Western Sydney NRL clubs including the Bulldogs, Eels, Panthers and Tigers.