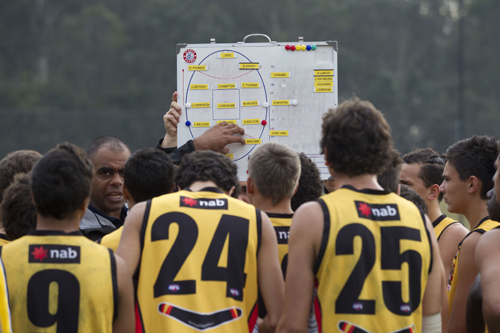 The AFL has announced that the Flying Boomerangs will visit New Zealand on a 10-day tour, departing Melbourne for Auckland on Thursday December 5.
The Flying Boomerangs is a personal development and leadership program for Aboriginal and Torres Strait Islander young men aged 14 -15 years-old, supported by the Coles AFL Indigenous Program.
Selected from the 2013 AFL KickStart Under-15 Championships, the Flying Boomerangs squad of 24 players will play two matches against New Zealand teams in Wellington at Hutt Park, coached by Eugene. Warrior.
The Boomerangs will be accompanied by AFL Indigenous programs mentor and former Melbourne Demons star Aaron Davey on tour.
Highlights of the tour include rafting in Rotorua, hiking the Tongariro Crossing and conducting an AFL KiwiKick football session at a local primary school in Auckland,
AFL Head of Diversity and International Jason Mifsud said this is a great opportunity for these talented young men to develop on and off the field.
"The Flying Boomerangs squad is made up of the best rising Indigenous talent in the nation and they will be given the chance to represent their country and showcase Australia's game in New Zealand when they play two exhibition matches against local teams.
"Throughout the tour the players will be exposed to elite training, as well as many cultural experiences which will be focussed on addressing the four core pillars of the program; Resilience, Identity, Decision Making and Communication.
"The tour to New Zealand is a significant event in the Boomerangs' program as it focusses on personal development and leadership, helping the participants to develop into confident young men and leaders in their community."
Tour highlights:
Dec 4 – Team training at Princess Park, Melbourne
Dec 5 – Depart for Auckland, Maori welcome at the airport
Dec 6 – Primary school visit (AFL KiwiKick)
Dec 7 – Cultural experience in Rotorua
Dec 8 – Rafting in Rotorua
Dec 9 – Tongariro Crossing Hike
Dec 10 – Visit Westpac Stadium
Dec 11 – Combined training session with NZ Hawks
Dec 12 – Game One at Hutt Park
Dec 14 – Game Two at Hutt park
Dec 15 – Return to Melbourne
Please find attached a photo of the Flying Boomerangs at the NAB AFL Under 16 Championships with their coach Eugene Warrior.
Vision and images from the tour, as well as interviews will be available. For all media enquiries please contact Amy Hattam on 03 9643 1783, 0423 505 083 or [email protected]
2013 Flying Boomerangs squad:
Shai Bolton (Meadow Springs, WA), Kobe Broome (Holland Park West, QLD), Lenny Christie (Kedron, QLD), Antionne Forrest-Yarran (Hamilton Hill, WA), Denver Garlett (Adelaide, SA), John Garlett (Parmelia, WA), Logan Gray (Banks, ACT), Jamie Hampton (Alice Springs, NT), Callum Harrison (Launceston, TAS), Dion Johnstone (Dennington, VIC), Jordan Jeffery (Palmerston, NT), Kym LeBois (Ceduna, SA), Keiran Martin (Alice Springs, NT), Liam Nelson (Surf Beach, NSW), Tommy Nickels (Northam, WA), Sam Powell-Pepper (St James, WA), John Pupangamirri (Mullumbimby, QLD), Jy Simpkin (Mooroopina, VIC), Kyle Thomas (Reservoir, VIC), Calvin Thorne (Rockingham, WA), Samual Walsh-Bannam (Milltown, VIC), Keenan Waterbury (Freds Pass, NT), Mathew Wilkes (Armadale, WA), Anthony Young (Newborough, VIC)
Eugene Warrior – Head Coach