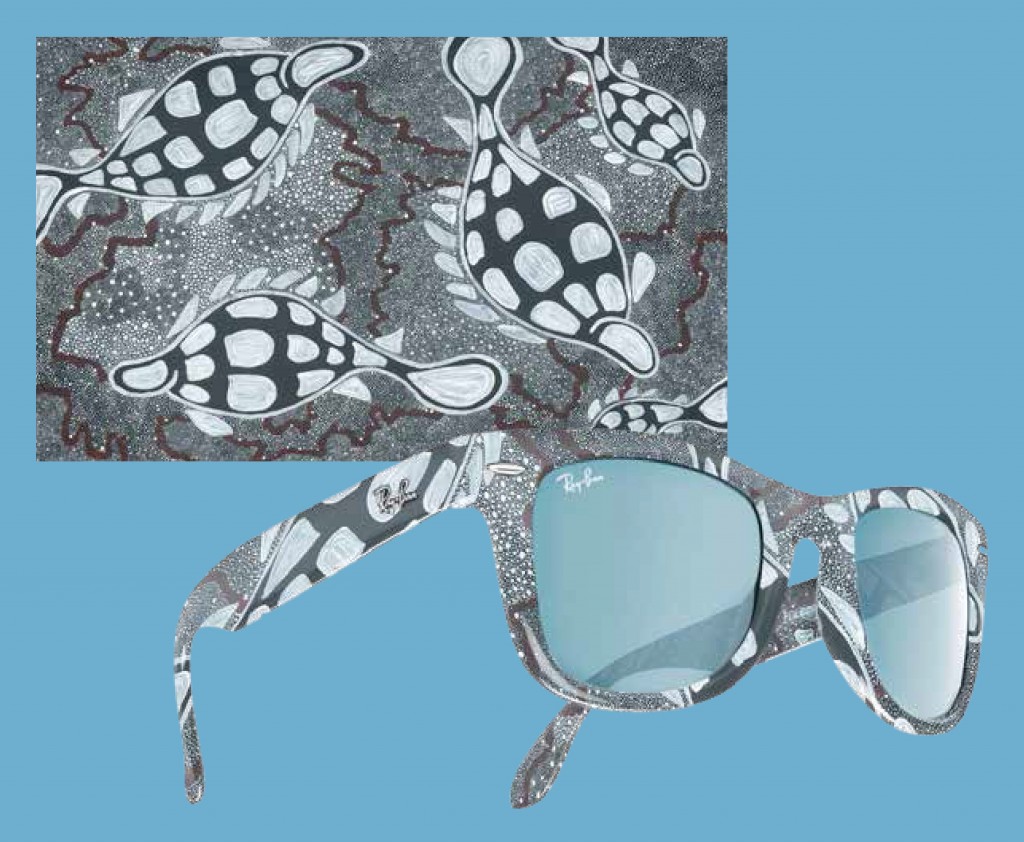 Not-for-profit organisation OneSight are on the look-out for creative Indigenous artworks by emerging artists to transform into unique eyewear as part of their broader mission to continue to reduce the gap between Indigenous and non-Indigenous Australians' eye health.
OneSight is encouraging Aboriginal and Torres Strait Islander people to submit artworks which have an overarching story relating to vision, sight and culture to be featured on an exclusive Ray-Ban Indigenous special edition Wayfarer sunglasses – in collaboration with OneSight.
The collection will be sold at OPSM, Sunglass Hut, Laubman & Pank and speciality stores, with $50 from each sale helping to fund OneSight programs across rural and regional Indigenous communities in Australia.
"Not only will the artist receive recognition for their work from the wider Australian public, they will also gain $10,000 worth of professional development of their choice and the profits from the licensing fee from each pair of glasses produced with their design from OPSM," says Australian OneSight Director of Community, Robyn Weinberg.
"The competition is open until 28 February, 2014 and will be judged by a series of leaders in the Indigenous community, including Alison Page and Aden Ridgeway, along with representatives from the Australian fashion industry."
Aden Ridgeway, a prominent member of the Aboriginal community, and a member of the OneSight advisory board, has played a key role in the establishment of this program to unearth talented Indigenous Australian artists and continues to support the work of OneSight in Indigenous communities.
"OneSight is an organisation aiming to change the face of eye health care for Indigenous Australians and reduce the alarming statistics we see every year. OneSight offers assistance to communities which would otherwise have little to no access to eye health and eye care services," he says.
Alison Page, the Creative Director of the National Aboriginal Design Agency and a representative on the judging panel of the competition, says this is a great opportunity for the next generation of emerging artists to make a name for themselves in the design community.
"Cracking into the arts world can be difficult. This is a great initiative for our young people to gain recognition in the arts and design community and see their work appear all around Australia, while also gaining a significant level of professional development and payment for their work," she says.
"OneSight are giving everyone the chance to find their artistic voice and a medium to express it through whilst staying true to our culture and heritage."
Finalists in the competition will have their full artworks displayed in a pop-up national exhibition to coincide with the launch of the Ray-Ban Indigenous special edition Wayfarer in Summer 2014/15.
The OneSight Foundation, a not-for-profit organisation founded by leading global eye care and eye wear company, Luxottica, brings to remote and disadvantaged communities free eye screenings and free glasses as required, along with eye-health education and works closely with Aboriginal communities across Australia to build sustainable eye health management programs.
To enter the competition or for further information, including terms and conditions, budding artists can CLICK HERE.