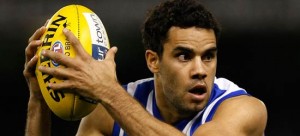 If there's one player in the AFL who deserves to have a good year in 2012, it's North Melbourne's   Daniel Wells.
The talented midfielder endured a horror 2011 after being felled by a sudden illness. While recovering from shoulder surgery at home, Daniel began to feel sharp pains in the chest and lower back, followed by shortness of breath before coughing up blood. After being rushed to hospital, Daniel was found to have blood clots on both of his lungs, requiring immediate emergency surgery as the condition can often be fatal.
While missing plenty of footy last year, after recovering from surgery Daniel has worked hard to regain match fitness and will start the season on a positive note after being named in the club's five-strong leadership group – a sign of the faith and importantance the club places on the 28 year-old from WA.
"It just shows you that life can be taken away from you anytime, anywhere," Daniel said. "If it can happen to me who, I suppose, is in the elite category of fitness, then it can happen to anybody. You've just got to be thankful for everything you've got. I'm blessed to be able to play footy at this level, so to get another chance is good."