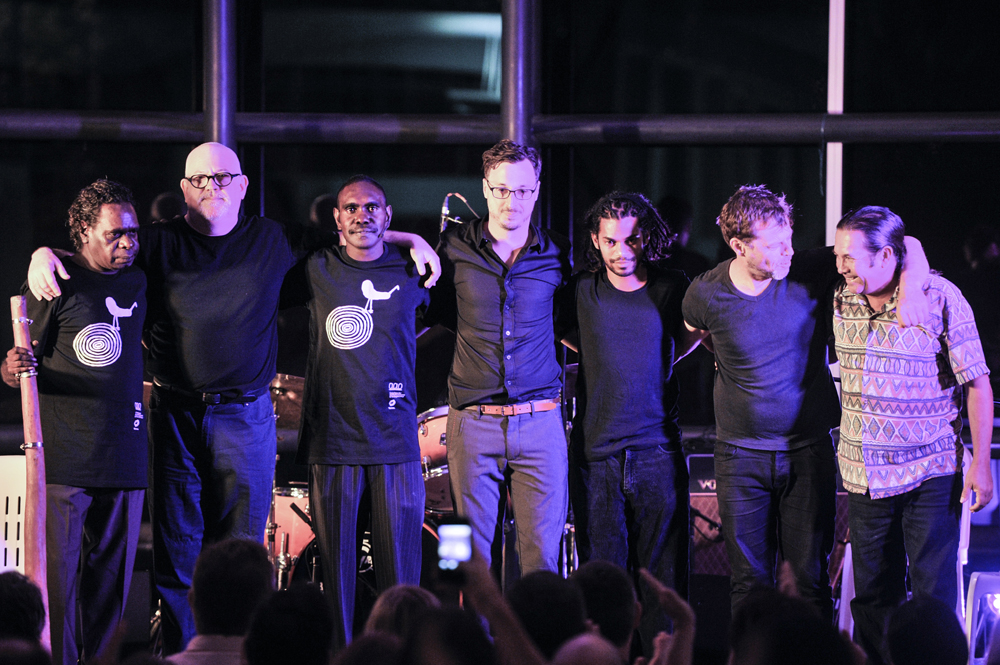 Nearly 10 years ago leading jazz musician Paul Grabowsky crossed the Roper River and headed to Ngukurr in North East Arnhem Land. In that crossing, he found inspiration for a musical collaboration with the Ngukurr songmen.
First performed in 2008 with the late great Ruby Hunter, the songmen of Ngukurr worked closely with Australian Art Orchestra Musical Director, Paul Grabowsky to create a contemporary rendering of their ancient songs.
The newly evolved version of 'Crossing Roper Bar' which during October toured from Darwin through Western Australia to Perth, showcased the evolving collaboration between the Paul Grabowsky's AAO and the Young Wagilak Group, traditional artists from Ngukurr.
"Having the opportunity to have these international musicians come to our school is a wonderful opportunity to see this music being produced," Principal of Djaridjin Lombadina Catholic School, Steven Carroll says.
It was a two way street as Tura New Music Director, Tos Mahoney described the experience as 'special'.
"Doing workshops in these remote community schools are totally different and are always a very special event," he says.
Added to this, 'Crossing Roper Bar' audiences were in total awe of what they saw and the overall response was that people 'loved it'.
A review in the West Australian had the journalist glowing with praise, saying that the emotional effect the music had on him was overwhelming.
Produced by Perth based Tura New Music, this recent performance also featured Broome's highly acclaimed Yawuru singer/songwriter Stephen Pigram.
As the musical entourage travelled through regional WA, from Kununurra to Exmouth and everywhere in between, they visited schools to teach workshops, sharing their experiences along the way.
For more information on Tura New Music you can visit their website at www.tura.com.au