Seventeen-year-old Chern'ee Sutton has achieved more in the art world in a short time than some artists do in a lifetime. She's currently at the Dreamworld theme park on the Gold Coast, painting eight huge Totem Poles, blending both contemporary and traditional Aboriginal styles of art.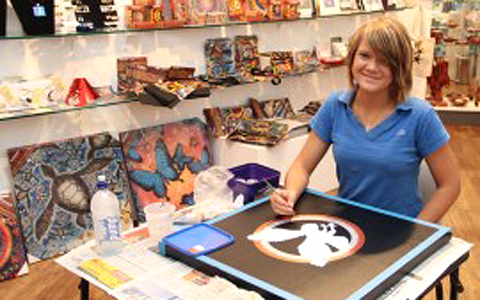 Chern'ee, growing up as a child in Bundaberg QLD, loved to draw and was always encouraged by her parents to make her own Christmas and birthday cards to present to her friends, however, being bullied at school was the catalyst for her to find out more about her Aboriginal heritage.
With her parents' encouragement to follow what she loved doing, she began to enter art competitions. Little did she know that this would be the spark that flamed her passion for expressing herself through visual art.
"Some of my friends were being bullies, just typical teenage stuff, but it was actually having a really big effect on me. So my mum rang up the Indigenous Liaison Officer at my school and asked them to try and get me involved, and they asked her what sort of stuff I liked to do," she says.
"She told them that I like competitions and that I like art. So they googled Indigenous art competitions and found one in the Bundaberg area and encouraged me to enter it, and I ended up winning first place in the open category against people who had been doing this for 30 years or so, and that sort of sparked my passion.
"It snowballed from there," says Chern'ee.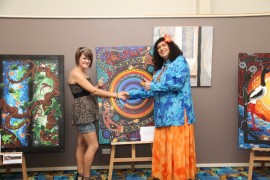 She now has paintings in the Queensland's Parliament House, in Queensland's State Library, and various Government departments, as well as having exhibited in Hong Kong.
Over the past four years Chern'ee has donated over $50,000 from the proceeds of her art sales to different charities and organisations because "she likes giving back".
Juggling art and school studies was not always easy, but with lots of drive and commitment she got through it all, occasionally staying up until 2am to catch up on school work.
"To get somewhere in life you have to work hard for it." Chern'ee says.
Painting has also enabled her to reconnect with her culture and her tribe, the Kalkadoon people.
"That really opened my eyes and sparked my passion for art and my culture," she says. "Reconnecting with my culture has been an amazing journey."
"I also plan to go to university the year after next and study law, and then I could become a lawyer or even a politician in the future. But I always want to continue with my artwork because it's my passion and I love it!"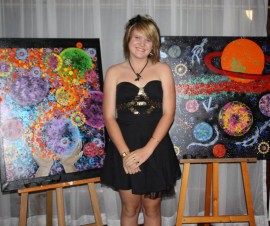 Chern'ee, post-graduation and as happy as ever, has nothing to hold her back, and now has her sights set on sharing her artworks with the wider community, including internationally.
With that amazing drive and motivation of hers there is no doubt that she will get there.
To find out more about Chern'ee's artworks head to her website.