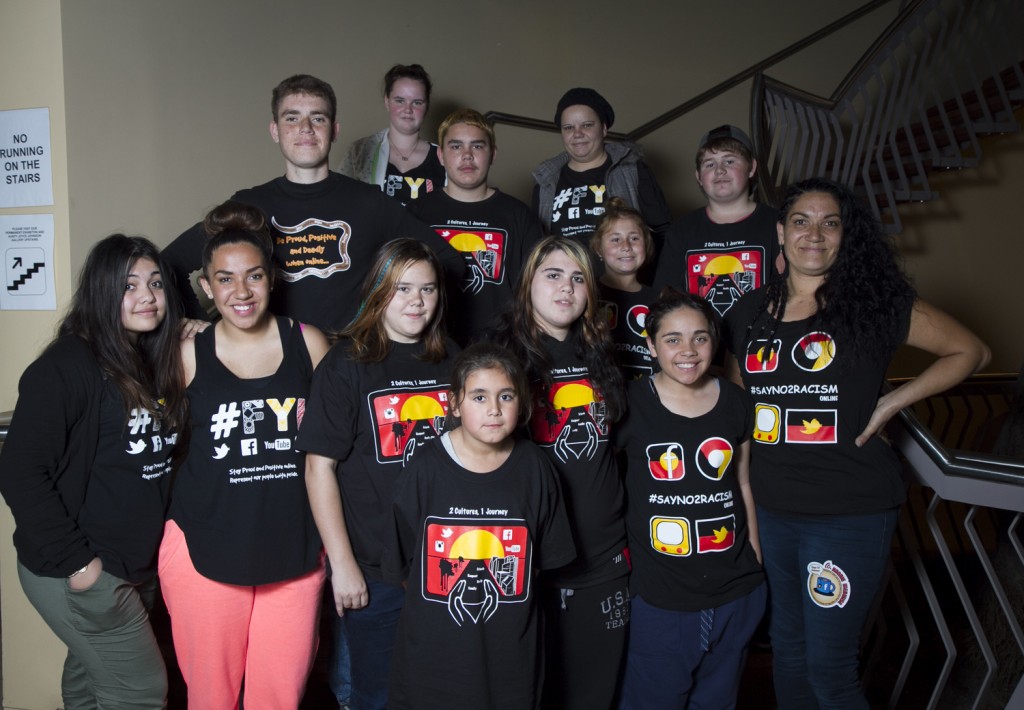 Koori WebWise is a program that was created for young Kooris, by young Kooris, helping them to learn about staying safe online and how to get their message across through the internet.
The Koori WebWise Program was established to address the unique challenges that Aboriginal people face online and to promote positive uses of social media. It was run through the Koori Heritage Trust and funded by the Department of Human Services.
The innovative program covers essential things like changing privacy settings, reporting a racist site, what to do when their page is hacked or a slanderous comment or inappropriate picture of them is posted, joining Koori pride pages, keeping in contact with their mob and finding out about deadly achievements.
The peer-to-peer educational programs primary focus is tackling cyber racism and lateral violence. For the last 18 months young Kooris have been developing their own campaigns to spread the message "Stay Proud and Positive Online and Represent Our People with Pride".
Peer Educators Nikita Bryant and Mathew Harrison had a vision for all the young people in their LaTrobe Valley community to be dressed in T-shirts displaying messages like "#SayNo2Racism" or "Be Proud and Deadly Online".
They organized a two-day workshop with Koori graphic artist Dixon Patten and 20 young people. The participant's friends and family jumped on board a giant 59-seat coach to show their support and attend the Koori WebWise Celebration.
"We conducted a survey of young Kooris and found that they were connecting more with family than with friends through Facebook. Social media is a way for our young people to stay in touch and feel connected," says Koori WebWise Coordinator, Jirra Lulla Harvey.
"The Peer Educators were very clear from the start that they wanted to promote positive ways we can utilise social media, to connect with family and community, to be inspired by positive role models and to find out about community events. But at the same time, they acknowledged the challenges we face as a tight-knit, interconnected community battling with lateral violence."
17-year-old Peer Educators Lillian Arnold-Rendell from Albury and Kzanne Atkinson from Mildura, have delivered Koori WebWise sessions to over 100 young Kooris.
"I loved being a Peer Educator because it allowed me to arm other young Kooris with the knowledge that how we represent ourselves online is directly linked with how non-Aboriginal people see us. My favourite memory was when Uncle Richard Frankland came in to teach us about the cultural load that we all carry and about lateral violence within our communities," says Lillian.
"Lateral Violence occurs when people talk behind each other's backs, spreading nasty rumours and gossip. Lateral Violence divides our communities without us really knowing," says Kzanne.
"Fights that happen online can spread fast and involve everyone. We have spoken to heaps of young people who have experienced this; when a fight between school friends starts on Facebook and all of a sudden Aunties and Uncles are fighting on your page and getting involved."
Positive online role modelling was a major concern to the Peer Educators. They created the Cuppa B4 Comment campaign that encourages anyone who is angered by a post on Facebook to stop and have a cuppa before leaving angry public comments.
19-year-old Peer Educator Kyeema Coombs conducted anonymous research for the Cuppa B4 Comment brochures. She wanted young Kooris to be able to speak openly about how public fighting on social media forums made them feel.
"It portrays us as being rude, ignorant and disrespectful of others. I would like to see the caring and generous characteristics of so many Indigenous communities displayed. I would like the world to see that so many Indigenous Australians are respectful, gentle-natured and willing to teach people about their culture and history," says one young woman.
"The Koori Webwise message is important because it allows for us as a people to present ourselves in a positive way to the wider community," says Kyeema
21-year-old Peer Educator Jemarli Atkinson wanted to spread her message through community radio. As a part of the program she travelled to Sydney to complete a Radio Intensive at the Australian Film Television and Radio School and returned to create the WebWise ads currently playing on Melbourne's 3KnD.
"Studies show that over half of youth suicides are due to bullying and I wanted to get a message out to community that we need to stick up for each other. Don't be ashamed, be strong. If you see someone getting bullied inbox them and let them know they are not alone," says Jemarli.
The initiative came to an end last month with a celebration at the Koori Heritage Trust in Melbourne.