He's got more Golden Guitars than you can shake a stick at. He's an avid Rabbitohs fan, a father, a proud Bundjalung man and, quite possibly, the most likable and humble fella we've profiled in the last 16 years. Clearly, the entire team at Deadly Vibe are huge fans of country music extraordinaire, Troy Cassar-Daley.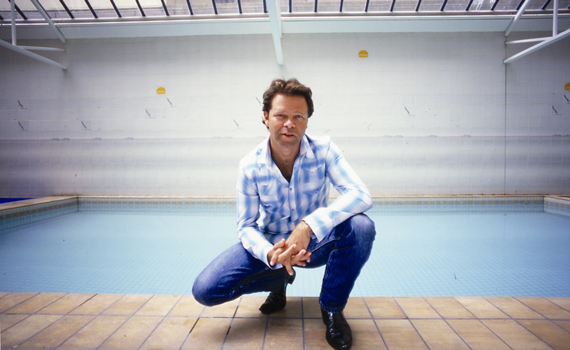 When we caught up with Troy to chat about his life in music and connection with Deadly Vibe over the years, he was out on his farm with an old photo album in hand, looking back on his first Tamworth Country Music Festival experience with his two cousins, Carmen and Melissa.
"I think we were at 'Hands of Fame' park where all the celebrities used to put all of their hands in the cement there, you know. I remember how excited we were. We had a little band at the time – me and my cousins, Melissa and Carmen," Troy says. "We called ourselves Bundjalung Beat and we'd learnt a bunch of songs. We were ready to busk up there, but we didn't have the confidence that first year to busk. It took me a couple of years to really get the confidence to get up in front of people out there. It was an amazing time."
Now aged 44, Troy has attended around 30 Tamworth Country Music Festivals, and has won a grand total of 25 Golden Guitars… so far. But as a young boy, did he ever think he would win even one?
"Oh, no way! The biggest surprise for me was seeing people like Slim Dusty and everyone in the flesh – which was phenomenal, because I'd only really seen them on TV or heard them on a record," Troy says. "The other thrill was seeing country music being played live with guitars and fiddles and stuff like that. I'd never really heard that at home, so that was like an award in itself. I never thought I'd win as many as I have. "Winning that first Golden Guitar was something that I'll never, ever forget. It was something that I'd dreamed of, but it wasn't really a motivator, it was something that came along as part of the journey. I was really, really thrilled and surprised.".
Since his first Golden Guitar, Troy has not only found success at Tamworth, but also managed to break into the mainstream music scene – he's won four Australian Recording Industry Association (ARIA) awards. Some other awards include two APRA Country Music awards, four Country Music Association of Australia Entertainer of the Year awards, and in 2008, he won a Country Music Association of America Country Music Global Artist Award. And of course he's also won a record haul of Deadly Awards – eight to date. But through all these awards, he's remained humble about his talent and says that other than starting a family, his life hasn't changed very much since he first started performing.
"My life hasn't changed a lot. I mean even though I've got a wife and kids now, I think I'm more responsible for them than anything else. I want to make sure they're okay," he says. "I've still got a guitar in my hand, I still sing for a living – it's something that I dreamed about doing as a kid and I never thought I'd get to do it, to tell you the truth. "I'd always thought that I'd do it on the weekends and have a normal everyday job, you know. But as things worked out it was nice to be able to have the chance to make it a career."
Over time Troy said he had a few people who were dubious of his career choice, but he never let it get him down. "I say to kids who are reading this that sometimes people will talk your career choice down, and a few people did with me. But it was never family. My family were always supportive. They came to every gig," he says. "But I say to those kids, don't let people discourage you from what you're dreaming of, you know."
When asked what has been the most memorable moment of his career, Troy says that it's the time he met Slim Dusty as a young man. "And then there was Merle Haggard who I got to tour with as well, that would have to be another one that's right up there because he was like a surrogate father to me through the record player," Troy says. "When I felt lonely, when I felt like I needed to hear a voice, Merle's voice was always there for me through the record player."
Troy says that everywhere he performs he is usually pulled up by a school or organisation to share his talent with the Indigenous community. "I remember when I first started going out on the road I always loved going to remote areas and doing a day's workshop with the kids because I got to see the talent among the community," he says. "It was always amazing because kids are always really motivated to get out there and do what they want to do musically. It was just nice to watch it and great to be a part of it."
Following some recent vocal surgery, Troy's been touring alongside Adam Harvey for their latest album The Great Country Songbook, which was released earlier this year. "We've been on the road and it's been great. We went gold in five weeks, so we were really thrilled. Really, all we did was find 10 of our own favourite songs and put them on a record together so it added up to 22," Troy says. "We did some duets as part of the songs and a lot of people really enjoyed the record, so it's been a wonderful experience touring it."
Not only has Troy been a regular in Deadly Vibe over the years, his children Clay and Jem are now avid readers. "I think it's been an amazing read. My kids have brought it home for years and it's been so nice to see the profiles on people from all walks of life, whether they're artists, dancers or singers. It's so nice to see that Deadly Vibe magazine puts our achievers on pedestals," Troy says. "I think it's really important, I've always said it, we have to really praise the people who are doing great things in our communities because they're the ones who are going to inspire the next generation of surfers, or musicians, or actors. "I talk to people all the time about the fact that we should really be supporting our achievers, and I think that's what this magazine does – it's exactly what I've always been preaching about."