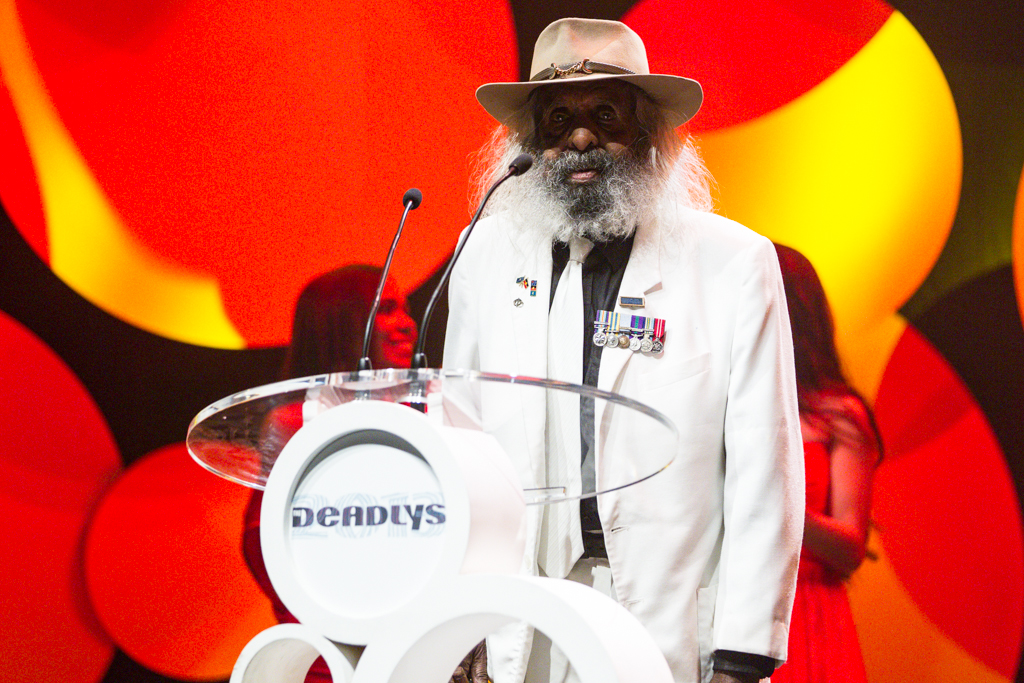 Arrente man Steve Mullawalla Dodd was honoured with the Jimmy Little Lifetime Achievement Award at the 19th Deadlys® on Tuesday night, at the Sydney Opera House with a standing ovation that didn't end until the actor had finished his acceptance speech.
The Jimmy Little Lifetime Achievement Award in Aboriginal and Torres Strait Islander Music broke with tradition in 2013 to acknowledge and pay tribute to an actor that created a pathway for others across the entire arts and music sectors to follow, at a time when typecasting stereotypes and discrimination was the 'norm' in Australia's arts industry.
Steve was one of the first Aboriginal men from South Australia to enlist in the Korean War, and has had a long and distinguished career and a lifetime of contribution to the arts.
"Steve has earned his stripes on film and television sets in a career that spanned 67 years," the Deadlys audience were told.
"He has earned the right to be called a pioneer and leader for our people in the field of the arts, showing resilience and dogged determination – barriers were not going to hold him back."
Born in 1928, Steve has performed in some of Australia's most prominent movies including Gallipoli, The Chant of Jimmie Blacksmith, Ground Zero, and in television drama: Homicide, Division 4, Rush and the Flying Doctors.
His career was interrupted when he enlisted in the Australian Army and served in the Korea War in the early 1950s, but he managed to pick up where he left off when he returned, contributing to several films which drew attention to issues such as land rights and race relations.
Vibe Australia produces the Deadlys®, Vibe 3on3®, InVibe, Deadly Vibe®, Deadly Sounds and Deadly TV. The Deadlys® 2013 will air on SBS ONE on Sunday 15 September at 9.30pm and repeated on NITV on Wednesday 18 September at 9.30pm.
You can keep up to date with all the Deadlys® news at facebook.com/vibeaustralia and through Twitter @Deadly_Vibe #deadlys. You can also head to www.deadlys.com.au and subscribe to Deadly Vibe Wire at www.vibe.com.au