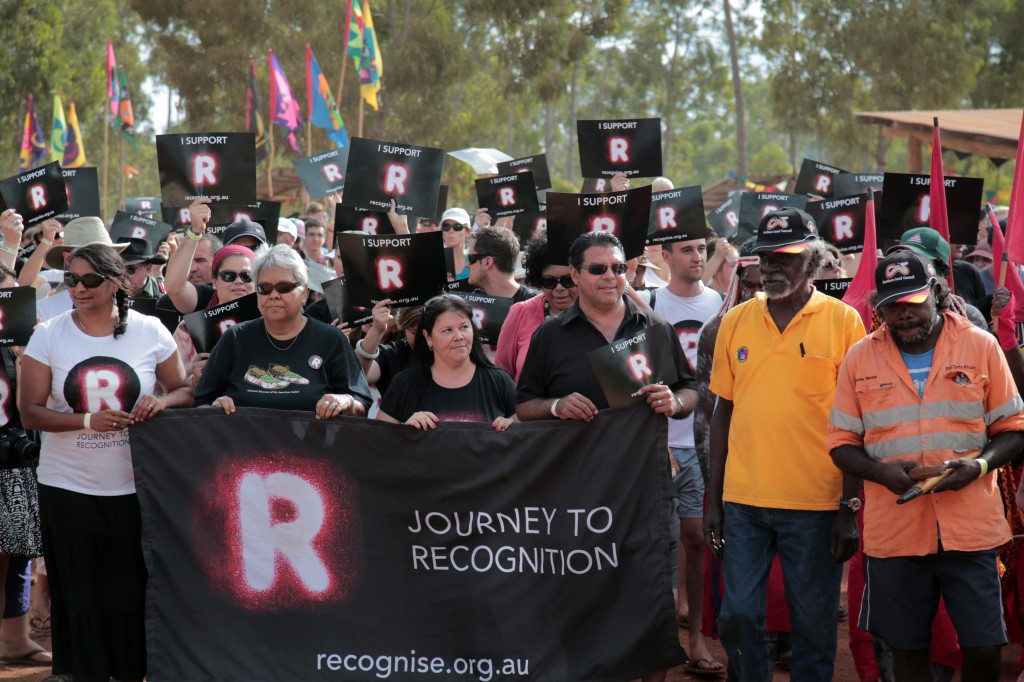 In a recent poll by ABC's Vote Compass, a majority of Australians voted in favour of constitutional change to recognise Indigenous people as Australia's first.
The Vote Compass poll was launched shortly after Prime Minister Kevin Rudd announced the 7 September election date. The poll made a variety of statements and received over one million reader responses.
Recognise – the movement to recognise the first Australians in the Constitution – says now is the time for people to get actively involved in this quest so we can make it happen.
"This is an issue that unites Australians," says Recognise deputy campaign director Tanya Hosch.
"And so we need to seize the momentum of results like this and propel our country to a referendum in the next term."
Vote Compass asked for responses to the statement: "The Australian Constitution should recognise Indigenous people as Australia's first inhabitants". A majority of all respondents at 46.9% voted "strongly agree".
Both Prime Minister Kevin Rudd and Opposition Leader Tony Abbott have said they would move towards holding a referendum on the question if they win office.
Other votes included 22.9% of people "somewhat agree", 16.6% "neutral", 6.09% "somewhat disagree" and 7.46% "strongly disagree".
Supporters of the Greens were strong supporters of changes to the Constitution, with 75.2% responding "strongly agree". Labour was second in line with 59.9% and coming in last was the Coalition with 28.5% supporting the potential change.
"This data affirms that support for recognition reaches across party lines among voters – just as it does among political leaders," says Recognise spokesperson Aden Ridgeway.
"It crosses both the rural/urban divide and the left/right divide that you see on many other issues."
Recognise has taken to the road, travelling around the country to build a greater people's movement. Recognition campaigners have walked more than 700kms, cycled over 1200kms, driven over 2700kms, paddled seven kilometres, stopped in 50 communities and involved more than 3000 Australians along the way.
The journey to Recognition is an historic relay across the country to build community support to recognise Aboriginal and Torres Strait Islander peoples in the Constitution and remove the racially discriminatory elements from our founding document.
It has travelled from Melbourne to Adelaide, through the heart of the country to Alice Springs and Katherine, before culminating at the Garma Festival in Nhulunbuy in early August.
The Journey to Recognition will recommence on September 24 from Darwin, heading west to Broome before eventually reaching every state and territory.