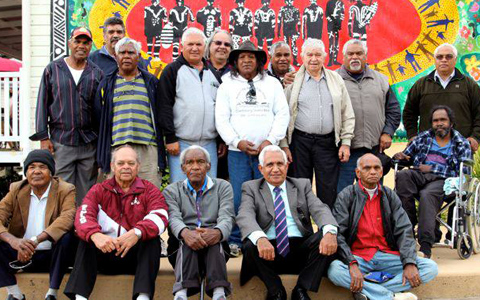 Imagine being shown no love, having no belongings and being kept away from your family. That's exactly what the children of the dormitories were subject to.
As part of Cherbourg's NAIDOC celebrations, their stories were told on film. The premiere of the ground breaking film 'Dormitory Boys', or 'Domo Boys' as they are known, showcased a tragic chapter in Aboriginal Australia's history.
The documentary produced by Ration Shed Museum Chairperson Sandra Morgan, is about the struggles and brutality faced by Aboriginal Australians living in NSW and Queensland when they were forcibly removed from their families and communities as part of the Aboriginal Protection Act.
David Wragge is one of the men who spent part of his childhood in the dormitories and his story is featured in the film, along with six others.
"It captures the things we went through in our lives, especially as young children and the impact of the past Government policies and how they impacted on the lives of the young boys and families," David says.
"We're representing other brothers who aren't here today and we've been very mindful of that."
On film David and his fellow brothers recall some of the things that happened to them during their time in the dormitories.
"I guess the things that really stand out are that we had no belongings while we were in the dormitories. We didn't own anything," David says.
"If you were primary school age you didn't own any clothing. Clothing was basically communal; you just shared the clothes that were in the linen closet."
Birthdays were never celebrated and despite the fact David's baby brother and sister were just a dormitory away, no visits were allowed.
The Healing Foundation has been working with the group of men since 2010 when they first got together to share their stories.
They have now almost finished producing a book about their experiences, and have found the film to be another powerful way of telling their stories.
Sandra Morgan first had the idea for the film when she began working at the Ration Shed Museum, which is the only surviving dormitory building today.
"The first meeting with the boys was to discuss what they'd like to do and then it kind of grew from there," she says.
"We got funding from the Healing Foundation which was very supportive of the film because at the other reunions they would just talk about things and it was very emotional. It wasn't easy.
"They handled it pretty well and I think it was a big thing for them too because some of them had never shared that much before."
To order a copy of the film go here.