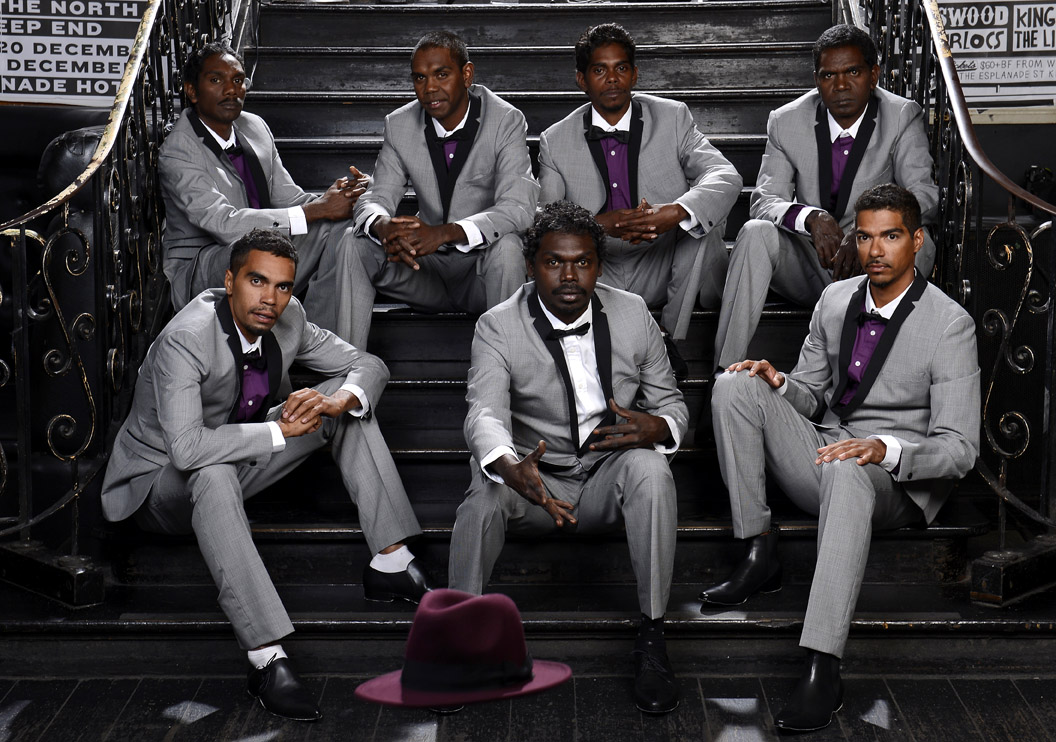 East Journey is fast becoming one of the bands to listen to, with reviews in America's Rolling Stone magazine and mainstream newspapers that describe the nine piece North East Arnhem Land group as 'explosive' and 'the closest the Northern Territory has to an Indigenous mainstream stadium rock band'.
The band, formed in 2010, incorporates a fusion of rock, acoustic, traditional yidaki (didg) and bilma (clapsticks), as well as singing in both English and Yolngu Matha. The result? A sound not unlike their major influences Yothu Yindi, blending ballads and rock to produce 'Saltwater Rock'.
East Journey draw on the sounds of Yothu Yindi and, in fact, lead singer Rrawun Maymurru is the grandson of the late Dr Yunupingu and performed with them as a teenager, along with Malngay Yunupingu, who is the East Journey backing vocalist and yidaki player for Yothu Yindi.
The idea for East Journey was a result of the talent in Northern East Arnhem Land, and a dream of giving that talent a platform for expression.
"Rrawun was working as a Training Officer at Laynhapuy Homelands at the time [in 2010], and we realised we had all these talented musicians in the community who could take their music to the next level," a spokesperson for the band says.
"Our music is strongly influenced by Dr Yunupingu and Yothu Yindi, and also Jimmy Hendrix, Carlos Santana and Steve Vai. Most of our songs are drawn from our homelands, our old people and the ancestral stories and songlines, but some of our newer songs are about how we, as a band, feel about this journey we are taking right now."
Yothu Yindi has mentored East Journey, encouraging them to move forward in the industry. According to the band, they are the role models for everyone in the community.
"They opened the doors for other Indigenous artists to follow through, and without them, things might be a lot different. We are very lucky to have been surrounded by these music legends, and we have so much respect for them, as musicians and as family. They are the benchmark for every aspiring musician here," the spokesperson says.
East Journey released Guwak their first album in April last year, and has received positive reviews for it, assisted by their growing number of live performances at gigs like the NIMAs, AWME and WOMADelaide.
"Guwak had a lot of songs that were written before East Journey, and some new ones that we finished writing and composing in the recording studio," the spokesperson says. "Our ancestral stories and our old people inspired the songs, and tracks like Song of Arnhem Land are about our connections to the land and the sea, and how we maintain that link while we are touring to places we've never been before."
The band is keen to do more live work, to share their culture and values through their music. Sharing language through song, is part of a cultural exchange they hope helps Australians understand Aboriginal culture.
"We will be performing at a concert with Gurrumul, for the celebration of NAIDOC for the Prime Minister, followed by the NIMAs, and the Garma Festival, then over to Western Australia. We are also working on our second album called Bright Lights, Big City, and this will also be the name of the first single to come out of this album."
As East Journey's success grows, the band has some firm ideas about what they must to walk in the 'whiteman's world' and still keep their feet on the ground.
"We follow closely in the footsteps that the late Dr Yunupingu set out for us. He taught us that we can share both cultures and work together, both Yolngu and Ngapaki in a respectful and humble way. Our families and communities support us and encourage us to work for our goals and dreams, and we do this not just for ourselves as musicians, but for our communities," the spokesperson says.
"Sometimes it is hard, because we are many in our band and some try to pull us apart, but we stick together, support each other and value each other. We want to travel the world as East Journey, experience life, make inspiring music and help the next generation of musicians to come through, like Yothu Yindi did with us.
"Before he passed away, the late Dr Yunupingu told us he wanted to see us at the ARIA's one day. Dreams can become a reality if you have the support of your family and your community."
Their next big performance at the NIMAs shouldn't be missed, and while they are not giving too much away, they have hinted that "it's lucky the Botanic Gardens [NIMA venue in Darwin] has a big stage to fit us all!"
Rrawun will also be singing a duet with NT singer/songwriter Shellie Morris, and there'll be a tribute to their mentors Yothu Yindi.
"Playing on stage with them in front of the late Dr Yunupingu's wife and daughters will be a huge honour and something we will always treasure in our hearts," the spokesperson says.
Given the legacy of Yothu Yindi is a powerful influence for East Journey, there has been some talk of the band producing a song which is similar in theme to Yothu Yindi's greatest hit Treaty.
"We have that song already written now, and it's called Unity. Unity is how we can unite both black and white together, walking side by side, not one behind the other, not following, not leading but in harmony. It's a lot to ask, but it's something we strive for."
To find out more about East Journey, head to http://www.eastjourney.com.au/