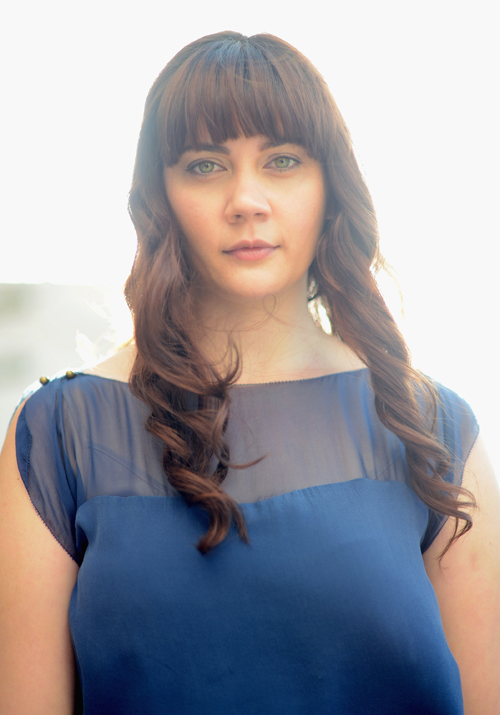 With The Sapphires, Redfern Now and 'the Graham Kennedy Award for Most Outstanding New Talent' under her belt, you'd be forgiven for thinking that Shari Sebbens' star is rising fast. But talk to the girl whose heart is still at home in the NT, and you'll find a humble actor who's grateful and surprised by all the fuss.
Shari's win at the Logies was definitely unexpected, even though Redfern Now picked up the Logie for Most Outstanding Drama Series on the night, and Deborah Mailman, who also stars in Redfern Now, won the Logie for Most Outstanding Actress for her portrayal of Benita Mabo in the made-for-TV movie Mabo. All in all, it was a night when the Mob stormed the stage of Australia's national television awards.
"It was an exciting night and unexpected, too. I spent a lot of time distancing myself from winning any award, and it was so nice to receive it – really cool. And given the Graham Kennedy Logie is peer-judged, it's good to think that other people feel I'm on track as an actor," Shari says. "But I've been lucky enough to be given some great parts with great writers, directors and actors."
And it's not just at the Logies that Shari has tasted success. She was also awarded 'Best Newcomer' in last year's Sydney Theatre Awards for her role in A Hoax. But despite her success, Shari, who still works part-time at JB Hi-Fi, says the industry's acknowledgement has not come overnight. "For me it feels that there has been nothing overnight about success. I studied for four years – one at the Western Australian Academy of Performing Arts and three at NIDA in Sydney – and I've wanted to be an actor since I was 13 years old," she says.
While theatre is a passion, Shari feels equally at home on television. In the first season of the hit television drama Redfern Now, Shari played 'Julie', a young pretty, intelligent, yet quite fragile, teenager who is in her first year of university. Coming from a working-class, Aboriginal background, she wants to make a better life for herself by getting a good education and is focused on that goal. There were definite similarities between Shari and the character Julie, who was family-oriented and also the fairest in her family. "There is a scene where a cab driver questions her Aboriginality, and people question how she looks – I was always the fairest one in my family and there are always expectations on how you should look as an Aboriginal person," she says.
Although, the character Julie doesn't make a comeback in season two – which began filming at the start of May – Shari is proud of the series' success among her mob and the wider Australian television-viewing audience. "It comes back to the fact that for so long Indigenous stories were told by non-Indigenous people. Now we have a big pool of professionals in television production, directing and writing. Once we took full control, they stopped being 'Indigenous' stories and became stories," she says. "Another big breakthrough has been NITV – it's now free-to-air and a default channel in people's homes, so both our mob and non-Indigenous people can watch it."
While Sydney is home, due to her acting career, Shari's heart is still firmly in Darwin, NT, with her family, and also in WA with her mob, the Bardi and the Jabirr Jabirr people. "The biggest thing in my life has been leaving my family, and family is where it starts and ends for me. Leaving Darwin…I don't get to make it home for weddings and funerals – things you take for granted. But I try to get home once a year, minimum. "I keep my feet on the ground by working part-time at JB Hi-Fi. I love it, and it's good for my research. I've been doing that for one and a half years now, and I remember when The Sapphires was released, people were coming in and saying 'But weren't you in The Sapphires?'" she says. As an actor, Shari describes herself as "curious" and "generous", and she always makes an effort to form strong relationships with her co-actors. "I like to have fun and play with my characters. I suppose I should add in there that I'm very hard-working, too!" she says, with a smile, of course.
With every role she takes on, Shari focuses on research and the 'social context'. "I get hold of as many books as I can and read about the social context of the times." With a background in theatre, and as a NIDA graduate, Shari is comfortable on stage, but says she feels she's yet to "earn her stripes on a film set". "The difference between stage and a film set is the immediacy. On stage you've got to get it right in that exact moment, but on film you get a few takes. In theatre you get more rehearsal time as well," she says. "But doing theatre is a real discipline and I think it's important for actors to be onstage at least a couple of times each year. I aim to do that because it's my way of keeping my craft energised and sharp." Shari considers her role in The Sapphires as the most 'fun' yet – and she remains firm friends with her co-actors. "Three out of the four of us grew up in Darwin, and Miranda (Tapsell) and I knew each other there. The four of us genuinely had the best time together – just a bunch of mad gins having a good time," she says. "The Sapphires was the first major [film] I'd done and it set me up for the next couple of projects." Shari's most recent project is for the ABC –a drama/comedy titled The Gods of Wheat Street. She describes it as a bit like "Black to the Rafters" and says it's got "a big heart". It's due on our TV screens later this year.