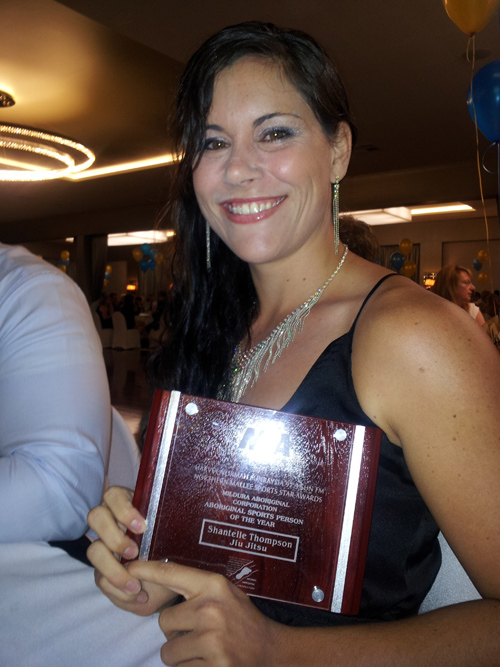 Mother of three, Shantelle Thompson is also known as the 'Barkindji Warrior'. As a Brazilian Jiu-Jitsu fighter, she has her sights set on winning the World Championship in her chosen sport.
Shantelle says she got involved in the sport in her late teens for fun, and that it has helped her battle depression. "I got into it when I was 18 for two years, basically for fun, but then I had six years off to have my children – I have a six-year-old girl and three-year-old twins. After my twins were born, I suffered Post Natal Depression and I wanted to do something to get fit. I didn't want to go on medication, so I got back into Jiu-Jitsu. It helped me get fit – physically and mentally," she says. At the time, Shantelle was a member of the Mildura Martial Arts Club. When her club started competing in the state titles, she decided she'd like to get involved in the competition side of things – and she's been doing so ever since.
This year, 29-year-old Shantelle and her husband moved to Melbourne, where they are members of the Maromba Academy. "We had a strong team in Mildura and we are still part of that group. We still go back and train. It was a combination of our training and career aspirations that made us move from Mildura to Melbourne," she says She says it is a huge commitment in her life. "We train six days a week and now it is twice a day – once for fitness and the other for training," she says. "In Brazilian Jiu-Jitsu, you start fighting standing up and you can use a combination of Judo or wrestling moves to do a takedown, then the rest of the fighting is performed on the ground. You need a lot of back strength or core strength to avoid being injured. I have done a lot of strength training and yoga to avoid being injured."
She is currently a blue-belt in the sport and recently attended the Victorian State Titles. Now she's training for the World Titles in America. "There was a competition in February, which qualified us to compete at the No-Gi World Titles in America later this year. They will sponsor us for flights and a two-week training camp in Las Vegas. Then we will compete on November 29 and 30 in LA. We need to cover the rest of the costs ourselves, so I am looking for sponsors to ease some of the costs – so I can focus more on training," she says.
Shantelle says she is one of only a few Aboriginal women competing in the sport. "I have been able to link up with a few other Aboriginal women who are involved in the sport as a result of some of the stories that have been coming out. That has been amazing, but I am at the highest level." She is confident about going all the way to becoming a World Champion in the sport. "I have been doing it for quite awhile now and my intention is to go overseas and become a World Champion. If it doesn't happen in November it will definitely happen next year," she says.
Last November, Shantelle competed in the Pan Pacific Brazilian Jiu Jitsu Championships in Melbourne where she won two gold medals in the Open Weight Gi and the Open Weight No Gi, as well as bronze in the 76kg Gi category. She has collected 14 gold medals, from the Australian National titles to the state titles in South Australia and the Northern Territory. Her advice to young people who want to get into the sport is simple: "Just Google 'Jiu-Jitsu' in your area and give it a go. It can look a bit intimidating, but don't be scared. It's an amazing sport that challenges you, physically and mentally. You never stop learning and growing because you're constantly evolving."
While dedicated to Jiu-Jitsu, Shantelle also recently completed her teaching degree. "I am about to become a secondary-school teacher. I am hoping to do casual teaching due to my commitment to Jiu-Jitsu. I teach English and Humanities. I really enjoy working with the kids and making relationships," she says. Shantelle's confidence is fuelled by the all-women Brazilian Jiu-Jitsu group called 'Australian Girls in Gi' that she belongs to. It was set up by the 2012 Pan Pacific champion, Jess Fraser. Over the past three years, while she was competing around Australia, Jess gathered women together to join the group. Before Jess began the group, she was one of a handful of women competing in Brazilian Jiu-Jitsu. At some gyms there would be only one woman training and they would often have to fight men. The group now has over 400 members.