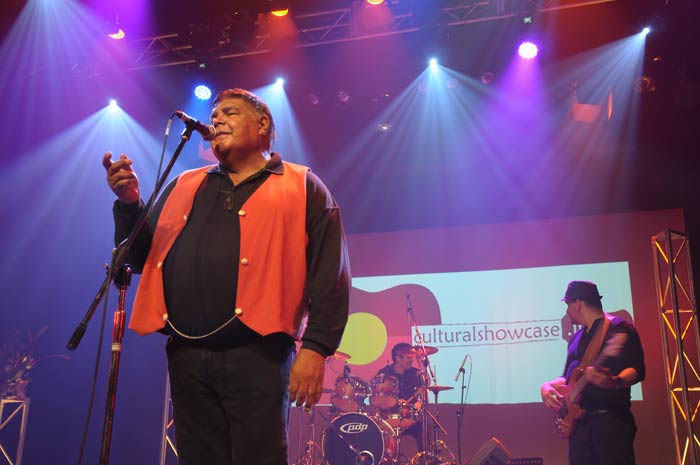 Deadly Sounds: Our special guest today is Roger Knox. Many of you know him as the Black Elvis and he is a bit of a crooner. Now, Roger, a lot of people associate you with country music, with Tamworth and the talent quests.
Roger Knox: I have been involved over many years. We have being doing an Aboriginal Showcase, where we provide a backing band and people can come along and sing.
DS: You never stop, do you? Now there's the album Stranger in My Land – how many albums have you had?
RK: About three or four. I did the Koori Classic, and A Gospel Album and Going On', Still Strong and now this one.
DS: Stranger in My Land is a great title. Where did it come from?
RK: It came from a Vic Simms song called "Stranger in My Country".
DS: I remember him – didn't he win a couple of awards?
RK: At the age of 11 he had an Australia-wide hit record with: "Yo-Yo Heart".
DS: You have been around forever and seen lots of bands and played with many people over the years. Is there a special moment in your career that you always think about?
RK: Yes – the time I won the NAIDOC Artist of The Year Award.
DS: That came out about the same time as Buried Country – a book by Clinton Walker, in which we heard about you and Dougie Young.
RK: Dougie wrote so many songs. He didn't get the opportunity to record many of them and then he went into obscurity.
DS: He was a bit of a legend. I know Troy Cassar-Daley cut his teeth with Dougie Young on tour. And "The Land where the Crow Flies Backwards" is just one of those famous songs. You talk about Tamworth and country music, but many of us grew up listening to Roger Knox and "Streets of Tamworth". When did you first record that?
RK: There was a Harry William's song called "Streets of Old Fitzroy".
I really liked that song and it was people like Harry who really inspired me.
DS: On your new album there's a song called "Ticket to Nowhere".
RK: That was written by Jim Ridgeway, from Newcastle. It also features the local Arthur Lee Harper.
DS: You were known as the 'Koori King of Country', but what are some of the other songs that people associate with you?
RK: "Koori Rose". There was another song called "Little Koori Rose" by a bloke from up our way called Eric Craigie. He was like Dougie Young – he had written so many songs. I don't know whether it came from that and a lot of people had it confused with that song. People still like it today. Young kids like it. It surprises me.
DS: Music goes around doesn't it? It's almost 40 years since you started going to Tamworth. That is a long time – to think about the number of people you have seen going through there.
RK: And the talent I have seen coming through there, too. I remember Troy (Cassar-Daley) when he was a young fella and also a young Keith Urban. I saw Frank Yamma and the Warumpi Band in Tamworth as well and it was a fantastic time.
DS: We often hear about Johnny Cash and how he toured the jails, but, Uncle Roger, you did that for many years, too – visiting Grafton, Goulburn, Silverwater, and others.
RK: We did it over a 15-year period – me and Vic Simms and Bobby McLeod.
DS: I can imagine that was something special for the inmates to have.
RK: It was – definitely.
DS: You wrote the song "Goulburn Jail"?
RK: An old friend wrote it, but I recorded it. There is a line in it that goes: "This hill of life's a steep one/a long and dreary climb/twice as long and twice as deep/when you're doin time."
DS: So was the music also an opportunity to show people what was happening in communities and social issues that were occurring?
RK: We like to tell the wider community – telling the truth about our stories and our people, because no matter where we are in this country we are all affected the same way. Archie Roach wrote that song called "Took the Children Away" – my mother was taken away. It affected us all. On this album, I was particularly happy for these people in America to support it.
DS: That's wonderful. There are some interesting songs that you have put on the album that we possibly wouldn't expect such as "Took the Children Away", "Brisbane Blacks", "Warrior in Chains" and "Arafura Pearl". You had such a presence in most families, particularly with "Koorie Rose" and then in the early '80s there was that terrible plane crash that you were involved in…
RK: Yes. That knocked me down for a long time and it was a struggle to get back from it. I thank people like Col Hardy for helping me. He said, "Come over and try something with me." DS: You got quite burnt from it didn't you?
RK: I had third-degree burns to 98 per cent of my body. It was touch and go for a while there.
DS: It was an extraordinary challenge, but it showed the strength that you had.
RK: Music is all about healing and people.
DS: One of the first times I interviewed you, you were with the Euraba Band. I never thought of it, but that is a medicinal plant.
RK: Yes it is. It helped me get on my feet again. My Great Aunty gave it to me. If it happened to me, I reckon it could happen to anyone. Their stories and songs and healing – it allowed me to continue doing what I do, which is encouraging young people. One of the ways I do that is through the Tamworth Aboriginal Showcase.
DS: Your sons and nephews have gone on to perform as well.
RK: My grandkids are performing now, too.
DS: It is in the blood isn't it? They are great crooners. Buddy Knox is more blues than your style of music.
RK: Yes he plays blues but he can play country and he has played with some of the biggest names around. He toured with the Warumpi Band as well for a while.
DS: You know how challenging the music industry is… Did you ever try to tell your boys not to go into it? Or that they might not make a lot of money out of it? RK: That's right. I did say that, but it is not about making money either – it is about healing and coming together, which we needed to do – to develop some unity among ourselves. That was a hard struggle. We had to open many doors over the years. I tried to persuade them to do something else, but it goes way back – it is part of our culture – stories and learning and listening… that is a part of us.