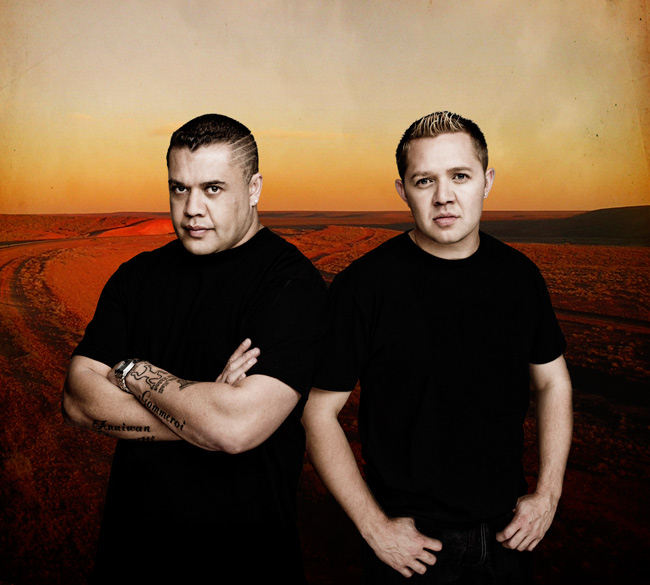 Multi-award winning hip-hop group Street Warriors will take centre stage at the City of Sydney's free NAIDOC in the City event at Hyde Park North next month.
Lord Mayor Clover Moore said the event – part of a major opportunity to celebrate Aboriginal and Torres Strait Islander culture organised by VIBE Australia – will help launch NAIDOC Week on Monday 8 July.
"NAIDOC Week is an incredibly important recognition of Aboriginal and Torres Strait Islander culture and identity," the Lord Mayor said.
"The city of Sydney has a strong Indigenous community and we're proud to be working on projects, such as the Eora Journey, designed to acknowledge their significant history, celebrate their culture and to promote reconciliation.
"This event is an open, free and fun way for people to take part in NAIDOC Week and I hope people from around Sydney join us in Hyde Park."
Newcastle-based Street Warriors will appear on the main stage from 1pm, performing songs from their debut album, Unstoppable Force, which includes their cover of the hit song, Solid Rock with Shannon Noll.
The brothers, Abie Wright (aka Predator) and Warrick Wright (aka Wok), will be fresh from shooting a music video in New York for their upcoming single, Champion.
"NAIDOC Week has always been important and we've always made sure we're a part of community events," Abie said.
"NAIDOC is a celebration of our culture, and how important it is to have community input, whether it be through music or song and dance, Aboriginal people make a very important contribution to Australian society and we want to celebrate that."
Abie was working as an Aboriginal tour guide and his brother as a youthworker, when they started performing over a decade ago as a way to inspire young people around them. They were the first Aboriginal band to perform on Triple J's Live at the Wireless and began touring across the country.
"We saw many young people who needed more positivity in their life and we found they connected really well with hip-hop and that's a great tool to encourage and inspire them," Abie said.
"It was a time when hip hop was new to Australia, and there were groups like the Hilltop Hoods who were pioneers. It was an exciting time, because we were really young and getting right into it.
"Now, we feel we're just fortunate to be at that point where we're doing things that we've always wanted to do."
VIBE Australia executive producer Gavin Jones said NAIDOC in the City was an opportunity to not only experience our oldest living culture in one of Sydney's well known locations, but for Indigenous and non-Indigenous people to come together and celebrate the Aboriginal and Torres Strait Islander identity of Sydney.
"NAIDOC Week offers everyone the opportunity to support their local Indigenous community. It's a very special week on our national calendar, and the celebrations planned for NAIDOC in the City will showcase the best of our culture, traditions and achievements," Mr Jones said.
"Importantly, through this year's NAIDOC theme, we are remembering the vision, strength and commitment of our early activists the Yolngu people to protect their land; and how the legacy of these incredible people continues today."
The theme for NAIDOC Week 2013 is We Value the Vision: Yirrkala Bark Petitions 1963, which will mark the 50th anniversary of this important turning point in traditional rights and ownership.
The two bark petitions were sent by the Yolngu people, of Yirrkala in northeast Arnhem Land, to the Australian House of Representatives in August 1963, protesting the Commonwealth's granting of mining rights on land excised from Arnhem Land, and to recognise the land as belonging to the Yolngu people.
The petitions were the first traditional documents to be recognised by Australian law and set into motion a long process of legislative and constitutional reforms for Aboriginal and Torres Strait Islander people, as well as the nation's acknowledgment of their land rights.
NAIDOC Week, from 7-14 July, celebrates the National Aborigines and Islanders Day Observance Committee, which grew from the first political groups of the 1920s.
Other NAIDOC in the City activities include a dedicated Kidzone and basket weaving workshops, with more performers and activities to be announced in coming weeks.
NAIDOC in the City
11am-3pm, Monday 8 July
Hyde Park North
sydneynaidoc.com.au