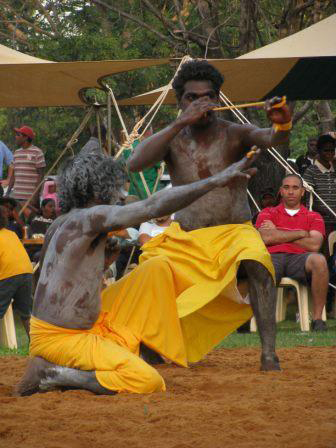 The 28th annual Barunga Sports and Culture Festival will feature some of Australia's most renowned performers from Gurrumul to the Chooky Dancers. Australia's longest running Indigenous festival began in 1985 and aims to showcase the culture of the Jawoyn People. The festival is recognised as a premiere celebration of culture and sport in the Top End. The event will be held from 7-10 of June and attracts people from all over the country, openly welcoming them to camp in the community, be part of dancing ceremonies, share traditional bush tucker, make their own didgeridoo or weaved basket to take home, listen to dreaming stories and enjoy the many cultural activities on offer.
The three main elements of the festival are culture, music and sport. Throughout the weekend of activities, festival-goers get to experience Aboriginal culture as it has existed for more than 60,000 years, making it the oldest culture still practiced today. Cultural events include spear throwing, storytelling, damper cooking, didge making, weaving and traditional bush tucker.
One of Australia's most well recognised Aboriginal artists; Gurrumul will perform as the headline act. John Butler, Tom E Lewis, Michael Hohnen, Thelma Plum, Emma Louise, B2M and Lonely Boys will also be making an appearance, among others. Around 40 teams from across the Northern Territory will also head to Barunga to demonstrate their skills in both modern and traditional sporting events such as AFL, basketball, softball, athletics, spear throwing, fire lighting and didgeridoo competitions and demonstrations.
Skinnyfish music will be helping to run the event this year and over the next five years. "This time last year it looked like the festival wasn't going to happen," festival co-ordinator Michelle Wild says. "Skinnyfish has always helped out with the performances on stage and with production, and this year has thrown their weight behind the production to keep the 28 year old festival going. "Skinnyfish are also aiming to provide training opportunities for the youth and are looking at ways to benefit the community and surrounding regions.
They looked at its potential and what the outcomes should be for the community. "There's a big emphasis this year on training opportunities and small business enterprises so the year becomes about working towards the festival, not something that happens on just one weekend. "Hopefully there is some skill development along the way. It's part of a much bigger plan at the moment and that's where Skinnyfish said it's either for five years or nothing, so we can actually put some worthwhile strategies in place," Michelle says. Barunga is located four hours south of Darwin and is one of the most accessible Aboriginal communities in the country. To read more about the Barunga Sports and Culture Festival, visit their Facebook page at https://www.facebook.com/BarungaFestival.