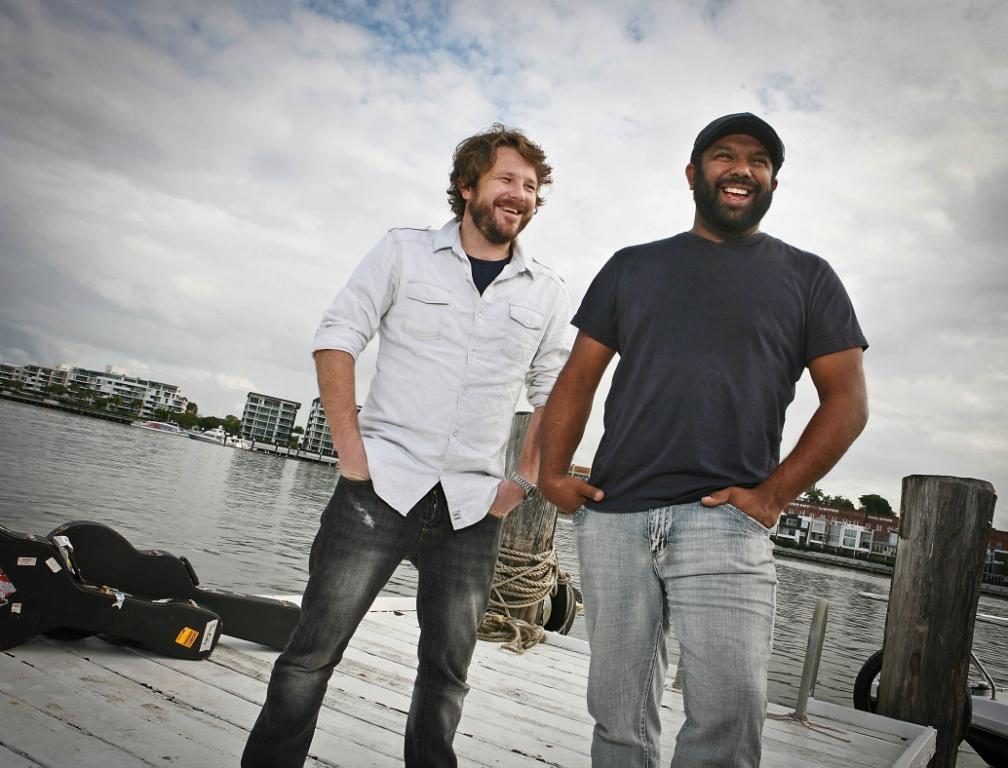 National Reconciliation Week from 27 May to 3 June, is a time for all Australians to learn about our shared histories, cultures and achievements and to explore how each of us can join the national reconciliation effort.
One of the ambassadors for National Reconciliation Week is popular musical duo Busby Marou, which consists of Thomas Busby and Jeremy Marou. Busby Marou from Rockhampton in Queensland were recently signed to Warner Music Australia's indie imprint Footstomp Records.
Jeremy Marou believes Busby Marou is a perfect example of reconciliation at work. "From the time Tom and I started singing, we have been the perfect example. With Tom and I – you don't get a better example of people who support reconciliation than a blackfella and a whitefella singing on stage, songs that they have written together – that's what reconciliation is about," Jeremy says. "Tom is a whitefella, who is working with blackfellas, one of the people in their everyday roles who are doing it without having to wear a badge on their chest. It should just be the norm – and not us doing anything different. "During the actual week – we aren't doing anything different because we do it all the time – but we are recognising what we do and playing on it a bit. "We have a big Indigenous following, the young kids come along and see he is not necessarily singing Indigenous songs with island drums or clap sticks or didgeridoos – he is just singing songs that he has written with his black mate."
Jeremy just got back from the USA, where they are working on their second album in Nashville, Tennessee. "I am heading back over soon to do some more touches and then warner Music will put it together and get it out there – we hope to have a single out next month and the full album out by the end of the year supported by a tour," he says. "We're hoping this second album sets us up – being a musician is the best job in the world."
Award winning Busby Marou have found success and a strong fan base since forming. They released their debut self-titled album in June 2011, which includes the emotive first single Biding My Time. After scoring high rotation slots from Triple J and Nova, Busby Marou's debut self-titled album reached number 24 on the ARIA album charts and number five on the Australian artist charts.
The theme for 2013 National recognition Week is "Let's Talk Recognition" – with a focus on how Australians can better recognise each other, and recognise the contributions, cultures and histories of Aboriginal and Torres Strait Islander peoples. The dates for National Reconciliation Week commemorate two significant milestones in the reconciliation journey—the anniversaries of the successful 1967 referendum and the High Court Mabo decision in 1992.
The 1967 referendum saw over 90 per cent of Australians vote to give the Commonwealth the power to make laws for Aboriginal and Torres Strait Islander peoples and recognise them in the national census. On 3 June, 1992, the High Court of Australia delivered its landmark Mabo decision, which legally recognised that Aboriginal and Torres Strait Islander peoples have a special relationship to the land—that existed prior to colonisation and still exists today. This recognition paved the way for land rights called Native Title. Anyone can get involved in National Recognition Week. Events are held right around the country—in schools, offices, parks and community centres. Holding your own event is easy. Check out our action list for ideas of things to do or visit the 'what's on' section. For more information go to http://www.reconciliation.org.au/nrw/what-s-nrw-