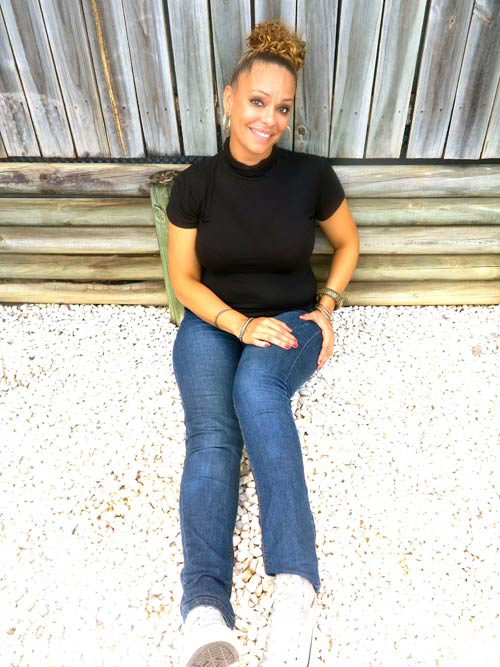 We were all holding our breath as we watched one of our favourite singers from the past decade, Simone Stacey, take to The Voice Season 2 stage to audition for the panel of celebrity coaches.
Simone performed a soulful and jazzy rendition of Sentimental Reasons, the classic made famous by Nat King Cole. Her performance had the audience and coaches delighted, with three coaches turning their chair for her. Good Charlotte singer, Joel Madden, said of the performance: "We had to turn our chairs, not only because you're a great singer but out of respect for the performance itself." Soul singer, Seal, agreed with Joel. "Exactly. Out of respect for that performance. It was really, really beautiful, I feel really fortunate that I got to witness that." While Simone was deciding which coach to go with, Seal told her: "I think I'd be the person that you are looking for." And so with that nudging, Simone was on Seals' team.
After each coach had picked the 14 singers for their team, the newly formed group met up for the first time, got acquainted, and watched each other's blind auditions to see what they were up against in the next phase of the process, the Battle Rounds. When she met Seal, Simone was impressed with his warmth and friendliness. "He's a lovely person, very down to earth, very warm and friendly. He makes you feel very comfortable. He helped make everyone there feel worthy of their position as an artist, which makes the whole process a lot easier, when you have someone so laid back, it just makes the environment a lot more comfortable," Simone says. After watching all of the team's blind auditions together, Seal gave an encouraging speech to his group. "He gave us a bit of a talk, to prepare us for the battles and the possible outcome. He was putting us in the mind frame of thinking about who we are as artists, and just remembering our worth and reminding us not to let anything affect us, no matter what happens," Simone says. "He really helped us all in that regard. It also put us in the mind frame of being team members but also respecting each other as well, so that it's always 'clean and cordial'. He's a man full of wisdom. He's good at getting into people's minds. I guess if he spots any kind of weakness in anybody, he knows what it's about straight away. It's almost like he can read your mind, it's kind of crazy," Simone says.
The battle rounds are quite nerve wracking for everyone but Seal encouraged his team to be confident. "He made us feel from the get-go that we were all winners, no matter what happens, and to remember that we've already won by getting that far," Simone recalls. In the battle rounds, the coach pits two singers from his team against each other in a 'singing duel'. "We learnt the songs with our battle partner, going over our stage and performance choreography. All of this preparation gave us the opportunity to get to really know each other, which is good because you are out there together. But still the concept of battling someone is very foreign to me. I'm a lover not a fighter! And music has always been something for me which is unifying," Simone says.
Simone was paired up with Michelle Martinez to perform Battlefield by Jordin Sparks. "The song that was chosen for me to sing in battle was not the type of song I would have chosen for myself to sing as it's very pop/urban, as opposed to the soul/RnB that I'm used to performing- so it was a bit of a challenge for me. Though I had fun learning something new. You just have to give it your best; that's all you can do in the end" says Simone. Simone performed well and got very positive feedback from all the coaches after the battle round, but unfortunately lost out to Michelle. She was able to walk away with her head held high and says that after being in the industry for many years you learn how to deal with setbacks. "As long as you know who you are, stay grounded and true to yourself, you will pull through," she says.
Next up for Simone is the release of her new single My Pledge which features up and coming rapper from the Torres Strait, Mosh. The song is in honour of Simone's great-grandfather being blackbirded (being tricked or kidnapped to work as a labourer). There is a write up on the back of the CD talking about the practice of blackbirding and also a message for kids to remember to always respect and honour their elders . This is something that Simone feels that the younger generation need to hear, to not only help build their communities, but to also help strengthen their self esteem and confidence.