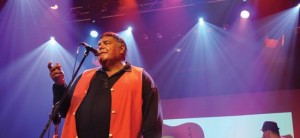 The King of Koori country music, Roger Knox, is releasing a new album in March called Stranger in my Land. This album is a collection of songs originally written by other Aboriginal artists who were Knox's peers and predecessors, including legends like Dougie Young, Bobby Mcleod and Archie Roach. It is a powerful and moving collection of songs that shed new light on the history and development of aboriginal country music.
Roger Knox, 64, is a major figure in Australian country music. Called the Black Elvis, Knox has been playing at the Tamworth Country Music Festival for the past 40 years. A survivor of two light plane crashes as well as the highs and lows of a country music career, he keeps on singing and recording and has now compiled an album of Australian country classics that pays homage to some of the icons of Aboriginal country music that have inspired him along the way.
Roger has been recording songs for nearly 50 years. He has been inducted into the Hands of Fame at Tamworth and he was awarded the Jimmy Little Award for Lifetime Achievement in Aboriginal and Torres Strait Music at the 2006 Deadly Awards.
But Roger originally planned to be a boxer or a footballer before he got involved in the music business. He grew up on the Toomelah Mission near Boggabilla on the NSW/QLD border.
"My mum was a singer in a church and we always had relations around who were musical. I came from a long line of musical people. It was one of the things that kept us going growing up in the hard world on the mission," Roger says.
"Country music was the music we heard growing up on missions. We heard people like Slim Dusty. If we had of heard of rock 'n' roll, we would have been doing that. Gospel was the first type of music I heard. We would look forward to the Sunday evenings at church when we would sit around and sing Gospel songs. We'd all gather around and someone would play guitar and we would sing."
He first went to Tamworth when he was 17 years old.
"I've been going there for 40 years. I have been around for a long time and have worked with some of the biggest people in the business. I had a cousin who was a singer. He had no shame. He would get up in front of anyone and sing. People would start clapping. He inspired me to get into it, but I didn't see it as a career at the time – just something that made me feel good – to make other people feel happy," he says.
"I was inspired by people like Jimmy Little, Col Hardy – they changed my thinking. I saw what they did with an audience. They gave 100 per cent with what they did."
During his many tours in the outback, Roger was involved in two plane crashes. He was badly burnt in the second crash and developed an addiction to pain killers, but he went back to country and was cured by his mob.
"I think I'm meant to be around. After that crash I had very bad burns, but one of the Aunties used bush medicine on me – the Yaraa Bush. She would boil it up and I would bathe in it as well as goanna fat direct from the animal itself, as well as some other medicines she never told me about," he says.
"I was on heavy painkillers and I gave it up. I was a bit crazy in the head and I give them credit for healing me of that too. My mind was gone. Their singing and chanting – I didn't realise it at the time, but I have come to the conclusion many years later that this is what cured me."
Roger is well-known as a trail-blazer for his jail tours, which he did for over a decade, visiting jails as far away as Grafton, Glen Innes, Tumbarumba, Goulburn, Cooma and Silverwater.
"I think we were the only ones going in there at the time – me and the Euraba Band and Bobby McLeod and Vic Simms. We did that for 15 years. We mingled with a lot of the young Koori inmates and it was something we looked forward to. It was good to relate to the younger blokes because they didn't get visits from their families," he says.
In 2000, a documentary and album came out called Buried Country, which featured many old country artists and included Roger's song 'Goulburn Jail'. The album led to a bit of a revival of interest in these musicians from a previous era.
The idea for the new album, Stranger In My Land, was to revisit some of the songs from Buried Country.
"A fella named Jon Langford from America came out here and he saw me and others singing our songs at Tamworth. He persuaded us to record an album of those songs, which included classics like Dougie Young's 'The Crow Flies Backwards' and 'Scobie's Dream'," Roger says.
The album was recorded in Australia and America, crossing national boundaries and using some legendary American country and blues musicians. The title comes from a song by Vic Simms called 'Stranger in my Land', which was recorded in 2011 in Tamworth.
Jon then took it back to Chicago and got other people to play on it including some legends such as Bonnie Prince Billy, Kelly Hogan, Dave Alvin (X, Blasters), Sally Timms, Jon Langford, The Sadies, Andre Williams, and Charlie Louvin of the Louvin Brothers, as well as Buddy Knox (Roger's son).
Stranger In My Land is a collection of songs originally written by Aboriginal artists who were Knox's peers and predecessors. Some tunes were previously recorded but difficult to find and there are several unrecorded, handed-down folk songs that, without this recording, could have been lost forever.
The tracks on it include: 'Crow Flies Backwards', 'Stranger In My Country', 'Blue Gum Trees', 'Took The Children Away', 'Arafura Pearl', 'Brisbane Blacks', 'Wayward Dreams', 'Scobie's Dream', 'Ticket To Nowhere', 'Warrior In Chains', 'Streets of Tamworth' and 'Home In The Valley'.
In making Stranger In My Land, Roger Knox closes the circle on a strange journey that has taken the music and these stories all the way around the planet and back. Roger recently returned from a 14-day tour of America promoting the new album. He will also be touring the album to Sydney, Melbourne and Queensland.
Included with the album is a detailed book and art by Jon Langford that gives the history of the songs, artists and people behind the music.
Stranger In My Land will be released on March 9 through Bloodshot Records/Inertia Music.
For more information visit: www.bloodshotrecords.net/rogerknox