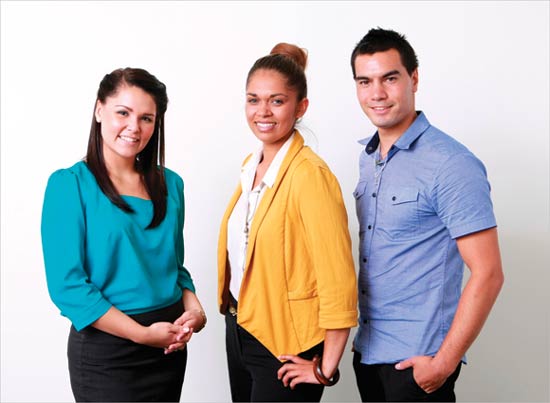 Working for the Australian Government is proving to be the right career choice for both a university graduate and two former trainees.
Sarah Richards from the Wongaibon people and Tegan Curtis from the Tjapukai people, entered the Australian Public Service (APS) through the Indigenous Australian Public Service Pathways Programs.
Sarah, a former accounting graduate, is now with the Department of Finance and Deregulation and believes the APS not only offers job security but opportunities to further her skills.
"An appealing aspect of working with the APS is the job security and satisfying work–life balance," Sarah says.
"Secondly, the APS offers job opportunities that align with different aspects of my chosen field of accounting, so I have plenty of options to improve my skills and become competent in all aspects of that field by moving around the different departments."
Sarah feels the APS is providing her with a stable basis for achieving her future career goals.
"It's providing me with the experience and development opportunities required to help me become an efficient and professional leader and a good role model to our Indigenous people. In coming years, I hope to be in a position where I can influence change and hopefully make a difference to not only Indigenous people, but also the lives of all Australians."
Former trainee Tegan Curtis found having the chance to learn and work in a different workplace environment, gaining new skills and experiences was a key factor in applying for the Indigenous Traineeship Program in 2012.
"As a trainee I completed a Certificate IV in Government and while doing that I met a lot of the other trainees who became not only friends but networks and support through the APS," he says.
The Australian Public Service Pathways Programs aim to attract, recruit and retain Aboriginal and Torres Strait Islander people within the APS, and support increasing Indigenous employment levels.
Applications for the 2014 intake of the APS Indigenous Pathways Programs for Indigenous Graduates, Cadets and Trainees are now open. By lodging a single application, Indigenous applicants have the opportunity to be considered for employment in a number of Australian Government agencies.
To apply for a graduate, cadet or trainee position, or to find out more, head to the APS Indigenous Pathways Programs website www.apsc.gov.au/indigenous/indigenous-pathways