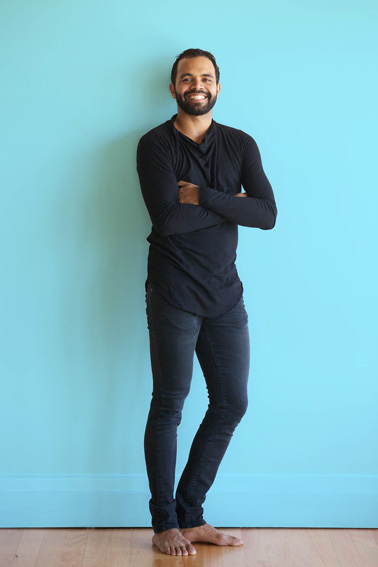 One of Bangarra Dance Theatre's youngest members, Luke Currie-Richardson is busy rehearsing for the company's new show Blak, which will tour nationally from May to July this year. Getting into Bangarra is a dream come true for Luke. He is certainly making the most of the opportunity and working hard to improve his dancing and fitness.
When Deadly Vibe caught up with Luke, he was rehearsing for two shows – a huge commitment, even for a seasoned dancer.
"At the moment, we are rehearsing Spirit – the show that we took to Vietnam and are now re-mounting – during the first half of the day. In the second half, we are creating Blak. We are all fit, but it's hard work rehearsing two shows," he says.
Luke is a descendant of the Kuku Yalanji and Djabugay peoples, of North Qld, the Mununjali people of South East Qld and the Meriam people of the eastern Torres Strait. Luke joined Bangarra in 2012 at the age of 24 as a trainee. He toured nationally with the production Terrain, then he went to Mongolia with Spirit, and to regional WA and NSW with the production of earth & sky.
"I am stoked about getting into Bangarra. I am over the moon. I have only been dancing for six years. There is so much talent coming through all of the institutions, such as NAISDA (National Aboriginal and Islander Skills Development Association), WAAPA (Western Australian Academy of Performing Arts), and QUT (Queensland University of Technology), so to get this opportunity… I feel privileged and grateful."
Prior to joining Bangarra, Luke attended NAISDA for two years, then he went to QUT in Brisbane to continue his dancing. Luke has a tight fitness regime to keep in shape for his dancing. He is also very conscious of his diet.
"We ride bikes to work and then do a full day of dancing, then ride home and then some of us swim – we are constantly going and pushing ourselves. The motivation is that you need to do it because someone else out there is training harder than you. There are only 14 spots in Bangarra. There are seven male Indigenous dancing roles and you have to fight for that opportunity. The people at the other places were working really hard – I have to keep going," he says.
"You might want that junk food, but you will feel bad afterwards when the sugar wears off. You want to go home and relax, but instead you do an extra two laps of the pool. At the end of the day you can feel completely drained – but you need to take it to that next level."
Luke says he didn't know he wanted to be a dancer until he was in his late teens. He was also a promising basketballer, playing at state representative level, and he grew up playing alongside his cousin, NBA player Patrick Mills.
"I grew up watching Patrick Mills being a role model for kids in basketball and sports in general."
Another cousin Tim Cornforth represented Australia in the Wallaby Sevens. I always looked up to them. We all grew up together in Canberra, but I moved around a lot," says Luke.
Luke's first major dancing role was in I Am Eora, which premiered at the 2012 Sydney Festival.
"That was a bit scary. My biggest fear was to go naked on the stage and I was the person that opened the show and I had to do it naked. I bit the bullet in my first professional gig. I had full trust in Wesley (Enoch) and the production team that it wasn't going to be done in a distasteful way," he says.
"We got a lot of great feedback about the show. It sold out every night. So I got naked in front of more than 4000 people over seven days. That was a bit nerve-wracking, but it was also a great experience to work with people like the Stiff Gins and Aunty Wilma Reading and all of these living legends. I really respect their achievements. It was mind-boggling to be surrounded by that talent – especially for my first professional show. I came back to earth when I returned to uni a few weeks later though."
Luke began his dancing career as a member of the Gerib Sik Torres Strait Islander Dance Group under Noel and Kay Zaro in 2002. At 18, he began contemporary dance training at QL2 Dance, home to Canberra's youth dance ensemble, Quantum Leap.
That same year Luke successfully auditioned for NAISDA Dance College, where he completed a Certificate III in Careers in Dance. He also performed at the 2009 Deadly Awards.
"I want to be a dancer and a role model for young Indigenous kids – to be on stage with all of that talent from our culture was an amazing experience," he says.
In 2010, Luke began a Bachelor of Fine Arts (Dance) at QUT. He performed in an award-winning work at the 2010 Short+Sweet Dance Festival in Sydney and has collaborated multiple times with MakeShift Dance Collective, an emerging group of Brisbane independents.
Although his career is taking off, Luke is passionate about doing cultural exchange work in remote communities. He just got back from the NT, where he spent a week in Nhulunbuy on Bremer Island as part of Bangarra's Cultural Exchange Program.
"I had a ball. I had the privilege to meet some artists from there and I got to learn some of their dances. That was a shock to me. We were taken up there by Aunty Kathy Marika. She is from Bremer Island," he says.
"In this program, we learn the dances and the stories and learn to live off the land a bit and go hunting – the girls do basket weaving. It was a great experience, especially for me being new to the company.
"I am aiming to get into the community more. This recent trip to Nhulunbuy just fuelled that. We saw some amazingly talented kids dancing there. There isn't much technology out there (in Nhulunbuy) but these kids were dancing like they were Beyoncé's back-up dancers."
Luke is honoured to be a part of the company and aspires to be a role model for both Indigenous and non-Indigenous children. His advice to other young dancers is to work as hard as you can.
So how do you get into Bangarra? "You get in by following your passion and staying dedicated. There are days when you work really hard but you have to keep going – just trying to keep your body in shape," he says.
The production Blak, choreographed by Bangarra's Artistic Director Stephen Page and emerging choreographer and dancer Daniel Riley McKinley, reaffirms the powerful experiences of rites of passage for young people as they transition to adulthood.
Bangarra Dance Theatre's new production, Blak, is in rehearsal and will tour nationally from May to July this year. See it at the Arts Centre Melbourne and the Sydney Opera House, as well as limited seasons at the Illawarra Performing Arts Centre in Wollongong, the Canberra Theatre Centre and the Queensland Performing Arts Centre, Brisbane.For more information visit www.bangarra.com.au.