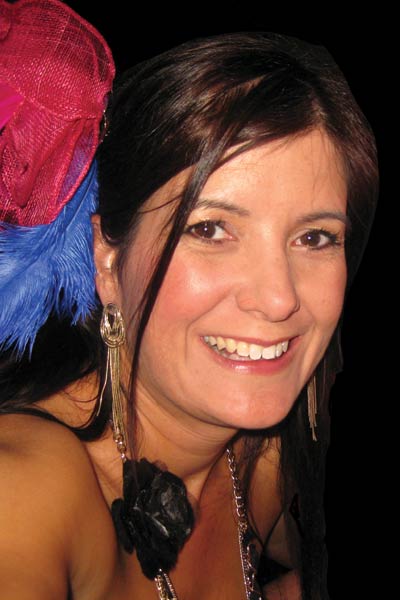 This young Canberra woman is making her mark in many fields of the media, including broadcasting, animation and photography. Now she's embarking on a documentary to find out why Aboriginal and Torres Strait Islander musicians are under-represented on commercial radio.
Marissa McDowell of Canberra is studying Media Arts and Production through the University of Canberra, and she also works as a presenter for the Sovereign program on 98.3 2XX FM. As a broadcaster, she takes every opportunity to promote Aboriginal and Torres Strait Islander music and arts.
Marissa says her Media Arts and Production degree so far has covered many mediums, including radio, animation and documentary making. She has already made documentaries on martial arts in Canberra and the Canberra Glassworks.
She says she loves making documentaries and interviewing people in general.
"I like discovering more about people and through documentary making, you go on a journey – you are privileged to go and see from the inside out," she says.
With her broadcasting work, she is currently working at 2XX FM on the hour-long Sovereign program.
"I get to choose music that I want to play and program the guests I want to interview. I also go out to lots of events and festivals and interview people. I prefer face-to-face interviews rather than over the phone because I get to engage with the subject and find out who they are," she says.
Marissa has also worked for the ABC in Canberra as a production assistant.
"I worked at the ABC here in Canberra for two years as a radio and television operational assistant. This involved editing radio and television broadcasts, pulling in information from other states and putting it into the correct format – sometimes right before the presenters went to air. It was nerve-wracking because it was happening right then," she says.
"I am now a part-time audiovisual assistant for the Canberra Stadium – in the production box for football games and other big events. It is a great atmosphere when the big NRL games are on."
For her honours thesis, Marissa is researching and making a documentary about why Indigenous musicians are under-represented in commercial radio playlists.
"Aboriginal and Torres Strait Islanders make up only 0.14% of broadcast content. I am going to talk to musicians, producers, consumers, industry, and people in marketing. I want to find out why some artists have been successful nationally and internationally – such as Gurrumul, Archie Roach, Jessica Mauboy, Christine Anu – and why others aren't broadcast to the same extent," she says.
"Outside the Aboriginal and Torres Strait Islander community, not a lot of people get to hear bands such as the Stiff Gins, Sue Ray or The Last Kinection – but these acts are consistently popular and great."
Marissa says she is also going to factor in digital and online music into her research by looking at hits and downloads and finding out how many of these artists have their songs on platforms such as iTunes, My Space and You Tube.
"Basically, I will be following some musicians and asking them how they are getting their music out there – both those that are in the cities and those in rural communities. In Canberra, other than The Medics I haven't heard any Aboriginal and Torres Strait Islander music being played on radio. There are so many bands who are probably selling their CDs out of the back of a ute," she says.
"Triple J is doing a great job in developing mentoring programs for Aboriginal and Torres Strait Islander artists – so I would like to talk to them, too. I also want to talk to the managers of these bands across whatever genre."
Marissa is also a photographer, and she is having her first solo exhibition later this year.
"I have an Indigenous residency with PhotoAccess in Canberra, where I get free training in photography and I have a solo exhibition in their gallery in Manuka during NAIDOC Week. To get this residency, I took in a portfolio of photos of my trip to India that I took with a little point-and-shoot camera. It was my first experience overseas. It was a real eye-opener," she says.
Apart from this, she also writes songs and poetry.
"I have learnt how to use Pro Tools through the Canberra Institute of Technology, so I record my own songs at home. Doing more of this is definitely on my 'To Do' list, but I also do it purely for fun. I also write poetry. My Aunty is a published poet and my uncle is Kevin Gilbert. I started writing and painting in high school as a creative outlet," she says.
Marissa grew up in Cowra, NSW, but her family moved to Canberra when she was 10 years old because there were more work opportunities. And while Canberra often cops a bit of a bashing, Marissa says she loves living there because the city provides so many opportunities.
"Canberra has lots of artists and exhibitions – this year it is celebrating its 100th birthday – so there is heaps on," she says.
"Canberra draws young people in from all of the surrounding country towns, such as Goulburn, Bathurst, Wagga Wagga, Albury, Young and Cowra. It is a bit of a melting pot. I might not stay here forever. It doesn't have a beach, but we are two hours to the beach, two hours to the snow and two hours to Sydney – so it is ideally situated. There are also some beautiful landscapes around here, too," she says.
Marissa says her long-term goal is to find full-time employment in the media once she has finished her honours degree. She also wants to complete an animation project.
"I want to create interesting content for radio and I want to work on an animation idea I have about what Australia is and what it means to me and others," she says.
Marissa's advice for other young people interested in getting into a career in media is to seek out places to learn things – wherever you can.
"If you're passionate – everything will fall into place. There is volunteer stuff out there in radio, film-making, photography, and writing, almost anything. There are TAFE, University and community groups – if you are really interested and passionate about something you will find a place where you can learn stuff. Don't talk about it – do it," she says.