So what do Cathy Freeman, David Peachey and David Wirrpanda all have in common? They are all talented and successful Indigenous sportspeople, but aside from that, they are also the founders of their very own foundations for Indigenous youth.
These foundations have done some great things for young Aboriginal and Torres Strait Islander people in recent years – from providing mentoring and elite training to the travelling funds to be able to compete. Often, all someone needs when starting out is a helping hand to set them on their path to success.
While growing up in and around Ceduna in South Australia, Matty McArthur, now 25, says he saw plenty of talented Indigenous youth who simply didn't get that extra bit of support to help them achieve their goals. When his bodyboarding career started earning him sponsorship and advertising contracts with some of Australia's biggest surf brands, Matt decided to find out how he could utilise his new contacts in the corporate world to help other young Indigenous kids like himself.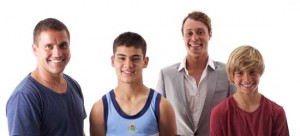 After running several bodyboarding workshops, Matt realised the best way to channel his passion to work with young Indigenous people was by establishing his own not-for-profit foundation. Then reality struck.
"I had no idea just how many legalities would be involved in setting up a foundation like this," says Matt, chatting to us from his home in Ulladulla on the New South Wales' South Coast. "Not-for-profits are one of the most heavily monitored tax entities you can set up because a lot of people use them as tax havens. Setting one up can be quite complex."
The daunting realities of the legalities involved were a major hurdle for Matt's plans before he crossed paths with former NRL star David Peachey, who runs his own foundation for Indigenous youth – The David Peachey Foundation.
"David (Peachey) put me in touch with the guy who runs his foundation for him. He drove down several times from Sydney to help me set things up and tell me who to talk to. It was a big help," says Matt. "Then, I was lucky enough to get in touch with the law firm Gilbert and Tobin in Sydney. They help out a lot of Aboriginal organisations and within a couple of days they agreed to do the legal side of things for the foundation pro bono (without charge), so that was amazing. I saved around $30,000 in legal fees."
The Bright Youth Foundation is now set to launch in the next couple of months. Already on the books is 12-year-old sprint sensation James Gallaugher. Matty says James is the perfect example of the type of person and talent that the foundation is aiming to nurture.
Matt envisions his Foundation as a vehicle to inspire and motivate young Indigenous people to pursue their goals, in any field, by assisting with promotion, media, financial support and networking.
"When I first started going places with my bodyboarding, I had a goal, but I struggled so much to get myself known and lock in sponsorships, so I thought, maybe I can start something up to help other Indigenous kids who find themselves in the same position that I was in – help them get to where they want to go," says Matt.
From conception to the impending launch, the process of setting up the Foundation has taken 18 months. It's been a steep learning curve, but Matt says it's definitely all worth it.
"I'm really relieved that we can finally launch," he says. "There were many times I didn't think we'd get there. I felt like, 'Ah, it's too hard'. It was really hard at the start to get people to help me and point me in the right direction, but I just kept going until I met the right people. Now, I'm just excited about what we can achieve."
His advice for others with a desire to get involved with programs or organisations supporting Indigenous youth?
"My advice would be, if someone really feels passionate about helping, just go for it, do whatever you can, get involved with other Indigenous organisations out there. We can all do something.  The more we can create – the more youth we can reach and inspire."
www.brightyouthfoundation.org