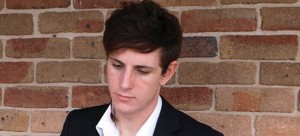 Kodi Lane is a young fella who knows where he's going. In fact, it's surprising to find such a level head on such young shoulders. At 18, this proud young Wiradjuri man has his future firmly in sight.
Son of the talented country music singer/songwriter Sharon Lane, Kodi grew up around music and his debut at just seven years of age, received a standing ovation and a special award.
"I was about seven years old and mum and my brother were performing in Country Music talent quests. I said I wanted to do that, so I learnt to yodel and then went onto singing and performing, and learnt guitar when I was nine years old," Kodi recalls.
"My mum encouraged us because she could see we wanted to do it. She used to introduce us as part of her band when we were younger, but now she introduces me as Kodi Lane, the artist."
2012 was a good year for Kodi. He released his debut EP Take Your Challenge, which has five originals on the album – three he wrote himself and the other two he co-wrote with his mum.
"I'd describe my music as pop/indie, but it's also got a bit of blues in it. I enjoy the songwriting process because I'll write what I'm thinking about at the time and it gives me a way of expressing myself," he says.
Take Your Challenge was launched in July last year, in the heart of the Dubbo community where Kodi grew up. Koori Radio made the trip to cover the launch and the EP is currently being featured on US radio. "So we'll see where that goes," Kodi says.
At the moment he's writing new material for his gigs, which can range from playing at the local RSL through to the Dreaming and Woodford festivals.
Along with songwriting and performing in 2012, Kodi also managed to fit in the Higher School Certificate, and gained a better-than-expected ATAR which got him into a Bachelor of Social Work course at Charles Sturt University in Dubbo.
"I prioritised last year. A lot of my friends went out constantly, but I had to forego some of my social ambitions … I did well in the HSC and surprisingly got above what I wanted."
Kobi didn't actively plan to go to university, because he wanted to concentrate on his dream of a career in music, but due to his dedication and passion for community work, he decided to study while he keeps following his dream.
"When I was a kid I wanted to do social work and while I was at senior school I started working with my community. I enjoyed the work, attending community based workshops and AECG (Aboriginal Education Consultative Group) meetings. As I was on a DEEWR (The Department of Education, Employment and Workplace Relations) scholarship, we also worked with the Neighbourhood Centre and with homeless youth. Mum and I are always part of the fundraising for the local community, singing and performing at local events, so it's something I've done for most of my life," he says.
There's no doubt that Kodi has taken his inspiration and his attitude to life from his parents. As a result of his upbringing, he has a strong belief in social justice.
"I suppose it's my humanity showing. When you hear other people's stories… I was lucky enough to be born to two loving parents who gave me a good home and provided for me. Some people don't have that. I think there should be more equality and I want to help create an even playing field," he says.
Ultimately, he's dreaming of a successful music career:  "Music has to be there or I won't be me."
While there are increasing opportunities for young Aboriginal and Torres Strait Islanders now, Kodi says he has experienced racism, too, but he says taking the time to inform and educate people helps.
"There is still racism but people are getting quieter with it. I try not to get too angry and explain it to them – the history and the reasons why the opportunities are there for us. And also that there are equivalent opportunities for non-Indigenous people, it's just that they are promoted more."