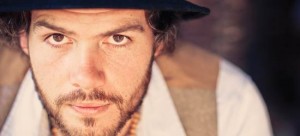 There's something about coming into your own that's extremely satisfying, no matter who you are and what you do. When a musician undergoes this journey, the audience gets to go along for the ride. Right now audiences are listening to the result of Victorian singer benny walker's evolution as an artist.
This proud Yorta Yorta man has just released a new album, Sinners and Saints, which went to #1 within a day on the Australian Blues/Roots Airplay Charts.
"The album for me meant that I got to see my continued growth as a songwriter. It is really a snapshot of what has inspired me in the last 18 months. Working
with [ARIA award-winning producer] Shane O'Mara was also inspiring in that we went back to old-school recording with minimal instruments and editing. We got to keep the 'soul' of the music," Benny says.
Benny looks back on his earlier recordings, including the highly successful EP Summer Sun as reflections of the stages he has been through as a musician. Likened to folk-rock singer Jack Johnson, Benny is at arm's length from any labeling of his music as a particular genre such as 'blues'.
Although the narrative in each of the album's tracks changes, the songs are inspired generally by the situations that Benny's family and friends go through.
"I take that core idea, and while the songs are not necessarily biographical, they can be true to the issues that people face. The track "Enough is Enough" off the album is inspired by what is happening in the Kimberley with the Coal Seam Gas mining."
Benny says his favourite track is definitely "Leave It To Me", a song about being stuck in a rut with the job you're in.
"I'm lucky because I love what I do for a living, but some people work in a job they don't like and stay there because they're making sacrifices for someone else – their wife or partner and their kids," he says.
"You get one go at life and why do something you don't like? I suppose in that song I'm putting myself in their shoes."
Benny's star has been steadily rising over the last few years and his grassroots touring schedule has helped to grow his fan base. He's also been performing overseas.
"I was in Canada in July and August last year performing at the Toronto Indigenous Festival and then touring after that. I've also been touring relentlessly in Australia – constantly gigging. I've been in so many places in the last couple of years," he says.
"Much of my evolution has come from touring. So much music is sterile and overproduced these days. I love the stuff that was done a long time ago."
While he's concentrating on promoting his new album now, Benny's guitar and songwriting are never far away.
"Whenever I finish writing a song I get that feeling of accomplishment, so I've been promoting the new album, doing a few festivals, and I'll probably do another lap of Australia before I head back to Canada later this year. I'll also be taking the new album to the US," he says.
Home is Echuca, Victoria, for Benny and he is the brother of Melbourne-based AFL star Andrew Walker. The family is particularly close and also proud of their Aboriginal roots.
"Echuca suits me because I'm a laidback person and a bit of a product of the environment. No matter where I've travelled to, I always enjoy coming back home and I'll keep doing that."
If you want to find out more about Benny's latest album Sinners and Saints, you can find him on Facebook, along with a few sample tracks from the new album.
Here is a clip of Benny performing one of his tracks off his new album 'All I have'