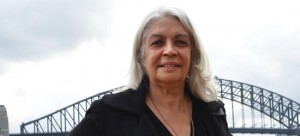 Professor Marcia Langton was on hand at the 18th Deadlys to present Percy Neal with the Deadly for Achievement in Leadership award that carries her name.
Speaking before the presentation, Marcia, who is one of the nation's most respected and outspoken Aboriginal scholars and thinkers said she was thrilled to attend The Deadlys and applauded their longevity.
"The Deadlys are an extraordinary achievement," said Marcia as she joined a host of other presenters, nominees and performers on the Sydney Opera House forecourt on the afternoon of the event. "And what it does is it makes people proud, and we need so many reasons to stop us from sitting around and just doing what we always do, working, worrying and thinking about the bad things. We need to stop and think about all the fabulous things that people have achieved and really celebrate together, and because it's televised, everybody who's got a television can join in.
Born in Brisbane in 1951, Marcia travelled widely in her youth and upon returning to Australia graduated in Anthropology from the Australian National University.  Since then, among many other positions, she has worked for the Australian Film Commission, the Central Land Council, the Queensland Government and the Cape York Land Council. Outspoken and at times controversial – she has been one of our most polarising and influential leaders.
As a member of the Northern Territory Aboriginal Issues Unit she worked for the 1989 Royal Commission into Aboriginal deaths in custody. Her report, "Too Much Sorry Business", had the widespread impact of bringing attention to the mortality rates in Indigenous communities and the issues surrounding them. In 1995 she moved full-time into university research and teaching and currently lives in Melbourne where she holds the Foundation Chair in Australian Indigenous Studies at the University of Melbourne.
"I think that's really wonderful for young people to know that there are people in our community that do amazing things," she said, "they're super human some of them and they're not just football players or singers – although they're wonderful –but all kinds of people and I'm just looking around here now and seeing people from all walks of life, people I've admired from the cultural industries, the arts industries, actors, dancers – it's such a good feeling."
In front of a capacity crowd at the Opera House, Marcia presented Yarrabah Mayor Percy Neal with the inaugural Marcia Langton Award in recognition of his positive work in the community.
"In recent weeks you may have heard me speak about the Australian Constitution and its race powers. It seems I am becoming very well known for that speech – but here tonight my presence is a lot less controversial, but we'll see how we go," Professor Langton said from the stage.
"Tonight I would like to do two things. I want to talk about the importance of leadership, and the need for each and every one of us to step up as Aboriginal and Torres Strait Islander people and not be silent on the things that matter to us," she continued.
"And I also want to thoroughly celebrate our leaders, on this national stage, for having the courage, the insight and the passionate intention to make things better, to create change when the cards are always stacked so heavily against us.
"Leadership is not always an easy coat to wear. Think of our Tent Embassy leaders from 40 years ago, and Eddie Koiki Mabo. Think also about the leaders in our communities across this country, doing great things in education, health, the legal system, training and employment. Or our leaders who are working hard to preserve our languages and our culture. And even our young people, standing strong in their identity and competing shoulder to shoulder at schools and in Australian society.
"Leadership comes in many forms and each and every leader is important to creating our future, preserving our traditions, advancing our rights, securing our lands and seeing to it that within our communities our people have the best chance to succeed."
Yarrabah Mayor Percy Neal has been an activist for his people for more than 30 years, always walking the walk to achieve change for the better. Whether it's housing, training and employment or fighting against racial discrimination and hardline government policies that impact on his Yarrabah (QLD) community, Percy Neal has been at the forefront of the fight for freedom, land rights and justice.
Described by High Court Justice Lionel Murphy as an 'agitator', Percy came to prominence in 1982 when he appealed his sentence of six months jail for an assault on the non-Indigenous manager of the then Yarrabah reserve.
When originally sentenced, the Queensland magistrate observed that Aborigines living on reserves were quite happy with their lot until the likes of Percy Neal came as political agitators and upset them. But Percy appealed to the High Court, with Justice Murphy observing:
"That Mr Neal was an agitator or stirrer in the magistrate's view obviously contributed to the severe penalty. If he is an agitator, he is in good company. Many of the great religious and political figures of history have been agitators …. that is the reason why agitators are so absolutely necessary. Without them, in our incomplete state, there would be no advance towards civilisation. Mr Neal is entitled to be an agitator."
Since that time, Percy Neal has continued to agitate for his community. As a leader he has fought for and helped secure land title, housing, training and employment, always believing that, "self determination and self management for the people of Yarrabah is the number one priority."