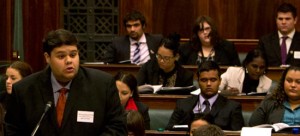 A young Aboriginal man from Moree seems destined for a career in public life, after winning this year's NSW Pride of Australia Young Leader Medal in August. But Mitchell Dahlstrom is not resting on his laurels – he's off to Canberra to learn about how the Government works – as part of an Indigenous Australian Government Development Program.
Unlike other young people who might be playing sport or computer games or socialising with their mates, Mitchell, 20, can usually be found at a community meeting or in some forum representing young people.
While studying for his HSC in 2010, Mitchell was also a co-ordinator for the Moree Plains Relay for Life, chairman of the Moree Plains Shire Youth Council and a member of the NSW Youth Advisory Council – an advisory body to the NSW Minister for Youth.
He is active in his community and is chairman of the Community Drug Action Team, treasurer of Moree Men's Shed and a member of the Crime Prevention Committee. Mitchell also regularly attends a number of community meetings such as the Moree Aboriginal Interagency, Moree Youth Interagency, Moree Aboriginal Education Conservation Group and many more community forums.
His most recent position has been as a Community Engagement Officer with Moree Plains Shire Council. In this job he assisted other young Indigenous people to find employment.
"In this role, I'm going out into the community and hearing what other community agencies and services are doing and seeing what elp I can provide. I also go into schools and talk to students. I like seeing young Indigenous people get work in town, to stop the drift away of young people to the cities," Mitchell says.
He says Moree, with a population of about 9400 people, has a high youth population.
"Moree 's population is over one-third youth. The major centre would be Tamworth and that is over three hours away. It is a bit of a trek. So it is a well-contained community. Everyone knows everyone's business, but that is good because people look out for each other," he says.
Earlier this year, Mitchell was selected to be a part of the National Indigenous Youth Parliament (NIYP), which was run by the Australian Electoral Commission and YMCA Australia.
"Being part of the Youth Parliament in Canberra was great. I got to meet a lot of interesting people," he says.
Mitchell was appointed as one of six NSW Indigenous Ambassadors to this prestigious team. He was chosen from a group of 180 Indigenous applicants from across Australia.
The NIYP aims at educating young Indigenous people about the Australian political process and the workings of the government.
Mitchell says this is a fantastic way to voice his opinions and ideas, as well as help all local Indigenous communities.
"I felt honoured to represent my community and NSW at this event. I enjoyed engaging with other young Indigenous people and discussing issues that are important to us. Part of the program also involved drafting and debating legislation with fellow ambassadors – this involved developing solutions to important issues facing our communities," he says.
As part of the NIYP program, Mitchell got a tour of Parliament House, a lunch with members of parliament, attended question time and debated youth bills.
And for his new job in Canberra, as part of the Indigenous Australian Government Development Program, Mitchell will learn more about the workings of government.
"My role will be to check out the Department of Education, Employment and Workplace Relations and determine what my major area of study will be. It will probably be in Contract Management – for employment services or as a graduate community engagement position.  Over 15 months, I will get a Diploma of Government," he says.
"I know Canberra well. I have been to Canberra before for Youth Parliament. I have even been to lunch with the Governor General, with about 40 other Indigenous people, for NAIDOC Week."
This employment and development program combines employment with structured learning via a diploma-level qualification. The program aims to increase representation of Aboriginal and Torres Strait Islander people within the Australian Public Service.
Mitchell's advice to other young people is for them to "get out and have their voices heard."
"You don't need to go and join 50 committees like I did, but you can go out and participate in your community and let people know what you think about issues. Just having your voice heard is a good thing, actually doing something in your community," he says.
"If you don't voice your opinion then you can't just sit back and complain all the time. You need to be proactive. It is very important that young people do more things in the community."