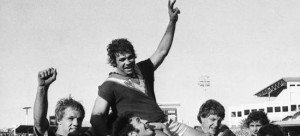 Members of the Ella family honoured the late Arthur Beetson at the 18th annual Deadlys in front of a packed Concert Hall crowd at the Sydney Opera House.
Beetson, a rugby league legend who passed away in December 2011 at the age of 66, was posthumously presented with the Ella Award for Lifetime Contribution to Aboriginal and Torres Strait Islander Sport by members of Indigenous Australia's most iconic sporting family: former Wallabies Mark, Glen and Gary Ella were joined on stage by their sister, former Australian netballer, Marcia Ella-Duncan.
"Not only was this man (Beetson) one of the greatest rugby league players of all time – his warmth, humility and compassion for other people outstripped any of his lofty achievements on the football field – the mark of a true champion," said Mark Ella from the Concert Hall stage.
Garry Ella also paid tribute to Beetson's significant place in the hearts and minds of Australia's Aboriginal and Torres Strait Islander peoples, being one of the community's great leaders, role models and inspirations.
"He was truly loved by so many people for the type of man he was," said Gary, "and from the moment he emerged from Roma as a talented young 19 year-old forward, going on to find success at Redcliffe and then fame in the big Sydney league, he always displayed great strength and dignity in who he was – a proud Aboriginal man."
Arthur Henry "Artie" Beetson OAM grew up in Roma, Queensland, and took his first steps to greatness on the rugby league field on the hallowed turf of Dolphin Oval, Redcliffe where he arrived in 1964 as a confident 19-year-old to begin his first-grade career.
In 1965, he led Redcliffe to a premiership win and soon after he went to Sydney to play for the Balmain Tigers, who played in the 1966 Grand Final against St George. The same year, Artie played his first game for Australian against England, scoring twice.
Artie's sheer physical power, his speed and his superb ball skills won many games for all the teams he played in and his attacking game changed the way that forwards play rugby league.
He captained Australia for the 1973 Kangaroo tour, making him the first Indigenous person to captain a national sporting team. Artie joined the Eastern Suburbs Roosters and captained the side to back-to-back Premierships in 1974 and 1975.
In 1979, Artie switched clubs to the Parramatta Eels for two seasons and in 1981 he returned to where it all began – to captain coach Redcliffe.
After retiring from the field, he went on to coach Australia, Eastern Suburbs, Cronulla-Sutherland and Queensland's first State of Origin squad. In 1987 he received the Medal of the Order of Australia "in recognition of service to the sport of Rugby League".
But Artie's achievements on the field were surpassed only by his larger-than-life personality. He was one of Australia's great sporting characters, a true larrikin and an important symbol of what it takes to be a winner in the lives of many people.
"He was a born leader of men on the football field, and of our Aboriginal and Torres Strait Islander community – and he did it all in his lovable way, as only he could," said Marcia. "He leaves behind a wonderful legacy – and we are honored to pay this tribute to him tonight."