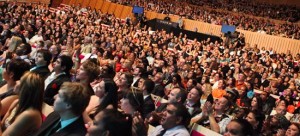 It was a night that generated warmth, pride and unity. In front of a capacity crowd at the Sydney Opera House the 2012 Deadlys® rolled out the best of the best across sport, music, entertainment and the arts, and community.
It was a night of family and connections, which wove their way spontaneously through film, music and health. Daughter of the late Eddie Koiki Mabo, Gail Mabo, presented the Film of the Year award to the director and cast of the film that told the story of her father's fight for land and justice.
The original Sapphires cast appeared on the same stage as the cast of the present-day hit film and The Sapphires' star Jess Mauboy accepted two awards on the night for Female Artist of the Year and Single Release of the Year ("Galaxy"). She closed the show with a number from the film Land of a Thousand Dances.
Nominees and winners came from across the country. The winners in the Outstanding Achievement in Cultural Advancement, the Tjanpi Desert Weavers travelled all the way from central Australia to be at the Deadlys. Tjanpi (meaning grass) supports the production and marketing of baskets, sculptures and seed jewellery made by more than 400 women across three states – NT, WA and SA.
What a moment it was when Stolen Generations survivor and founder of Marumali Healing, Aunty Lorraine Peeters accepted the Lifetime Contribution Award for Healing the Stolen Generations. The Elder who interrupted her busy schedule and travelled from Cairns to Melbourne and back up to Sydney to attend, told the audience she was tired and had stayed up way past her bedtime. In a moving speech, she vowed to keep working for the Stolen Generations "with every last breath in my body".
Excellence in Aboriginal prenatal health was recognised with the Outstanding Achievement in Aboriginal and Torres Strait Islander Health going to the Boodjari Yorgas Family Care Program from Perth, WA.
And in another unplanned connection, there was a double celebration in the Corowa household when John Corowa was named the Aboriginal Health Worker of the Year. Then his son, musician Marcus Corowa, was awarded the Deadly for Most Promising New Talent in Music.
Early childhood learning was a focus of the Outstanding Achievement in Aboriginal and Torres Strait Islander Education with a learning group from Queensland, which helps parents prepare their children for school, The Napranum Parents and Learning (PAL) Group accepting the Deadly.
Executive Producer Gavin Jones was overwhelmed with the response to the 2012 Deadlys.
"It was such a joyful night and you couldn't help respond to the warmth and unity of our people," he says.
Mr Jones also thanked all the event's sponsors and particularly the Australian Government Department of Health and Ageing, saying the Department had supported the Deadlys since the beginning of what has become, over 18 years, a national iconic event.