Emerging singer, songwriter Thelma Plum has been captivating audiences with her beautiful folk songs and reflective lyrics. She is hoping to release her first EP soon and is planning a move from Brisbane to Melbourne to pursue her music career. At 17, she has already been nominated for various awards and has played alongside some major artists – and all of this before she has even officially released a CD.
Thelma is a finalist in the Most Promising New Talent category in this year's Deadlys. She has also recently won Triple J's National Indigenous Music Awards (NIMA) competition and performed at the
annual awards in Darwin alongside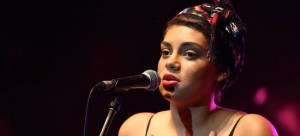 such great acts as Troy Cassar-Daley, the Medics and Warren H. Williams.
Thelma has achieved all of this without officially releasing any music and only months after leaving school. She has been playing guitar since she was "very young" and has been playing gigs since about the age of 13.
Thelma spent her teenage years living between Moree and Brisbane but was introduced to music by her grandfather while growing up on her grandparents' farm in the small town of Delungra in NSW.
Thelma's diverse cultural background  has also shaped her worldview and has provided much inspiration to draw on. Her father is Aboriginal, her mother is a white Australian and her adopted father is Brazilian.
She spent years 11 and 12 at Brisbane's Music Industry College where she received a lot of encouragement. She hopes this study will equip her for a long-term music career.
"I received a lot of encouragement there and if it wasn't for that I'd probably be doing something totally different," she said
Her influences include Paul Kelly, Kev Carmody, Marianne Faithfull and Bob Dylan among others.
"I like the way Paul Kelly reflects Australian culture in his songs and how he does it in an understated kind of way. He is such a great song-writer."
Thelma says she is looking forward to attending the Deadlys at the Sydney Opera House this month.
"I have watched the the Deadlys for years and years and it is overwhelming to think I will be part of that," she says.
"It means a lot to win, but even to be nominated and to be a finalist for a Deadly is so great. It is so great to showcase Indigenous talent like that. I am very grateful. I think it is great that there are awards that focus purely on Indigenous talent. It will be a fun night."
Thelma played at the launch of the Deadlys at SBS studios in Sydney on July 23. She played her beautiful short song 'Father Said', which is receiving many hits on YouTube.
She is proud of her Indigenous roots and this is reflected in her songs, but while she is being recognised as an Indigenous artist, she says her music isn't confined to that.
"I want my Indigenous culture to shine through but it is also good not to be placed in the one box," she says.
Some of Thelma's performances can be viewed or listened to online, but her first official release will be an EP later this year.
"I have an EP coming out soon (no title yet) and the single will be 'Father Said'," she says.
She also plans to do some touring next year after the EP release. In the meantime she is focusing on her song writing.