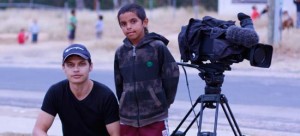 Internationally acclaimed film director Ivan Sen is one of our most prolific film-makers. He made the feature film beneath clouds, which won a number of awards, as well as short dramas such as dust, wind, journey, tears and warm strangers. Some of his documentaries include Shifting Shelter 1, 2 and 3. There was also Dreamland, Who Was Evelyn Orcher?, Yellow Fella, Broken Borders and Aunty Connie. His new film, Toomelah, has just been released.
Deadly Sounds: Toomelah has received official selection at the 64th Cannes Film Festival, the 2011 Sydney Film festival and a Best Actor nomination at the Asia Pacific Screen Awards – what a great start!
Ivan Sen: Yes, it has been a good start for the film, which we are happy and excited about.
DS: Without giving the plot away … can you tell us a bit of what it is about?
IS: The film is set in the Indigenous community of Toomelah and is about a troubled 10-year-old boy, Daniel, who goes to school and hangs around with a local gang of boys. The police get involved with them and Daniel has to make a decision about his future.
DS: Toomelah is up in Kamilaroi country. What was it like to be filming in the community?
IS: It was a lot of fun but there was stress involved as well. This is my own community, so I found it easy to connect with the people who were the actors in the film – they are all local people. You have to work in with the local way of life as well, so you have to be prepared for people going away on football trips or fishing, or prepared for the odd funeral as well. All of these things can take quite a bit of time out of the filming process.
DS: I also heard a rumour that you got married?
IS: Really? Yes. I am getting on now and it is time to make my mark on the world.
DS: You also went to China?
IS: Yes, I have been to China on and off over the last few years. I have always had an interest in ancient China and I have gone there and really connected with the place and the people. I try to understand what is in front of me and China is full of stuff that I try to understand.
DS: I believe there is a film called Loveland from that experience?
IS: Yes I have always wanted to do a film in Hong Kong. I am developing a commercial film that will be aimed at the Chinese mainland market. It has been difficult to write and a new experience for me. It has been a gradual thing, where I have stood back and let my experiences inform that story.
DS: With music, I know the Chinese are so thirsty – you can play metal and they will come to it… Is it a little bit like that with film? Are they just wanting this Western influence?
IS: I think so, even though they are under a quota system where there are only so many Western films allowed into the country each year, but they do flock to them.
DS: Do you get homesick over there?
IS: The air quality is not fantastic compared to Australia, but it depends where you are. Up in the mountains it is amazing. I have spent a lot of time up in the south-west, towards the Tibetan area. It reminds me of Toomelah when I go up there – you have a lot of cultural minorities and I see character traits in the people similar to those I see here.
DS: Are you learning the language?
IS: Yes, but the language is difficult with all of the dialects. In the more isolated areas they are hard to get a handle on.
DS: Where can people see Toomelah?
IS: It is a national release, so Sydney, Melbourne, Perth, Adelaide, Tasmania, Canberra and Brisbane. It came out on 24 November.
DS: Little Daniel Connors plays the lead role … How has it changed him, being part of the film?
IS: I don't know, I guess he has matured a bit since making it. He transformed during the time we were making the film from a cheeky boy to someone who is quite responsible and wanting to do something with himself. The same at Cannes: he took to it amazingly and has been very helpful to everyone and really enjoyed the whole red-carpet experience.
DS: During the '80s there was a lot of negative publicity about Toomelah. I think it is wonderful that you are going to show a side of Toomelah that is personal. Your films allow people to see a broader perspective and the Indigenous perspective.
IS: I think the local people here in Toomelah are really excited as well. We are having a community screening tomorrow – they have been waiting a long time. You get out on the highway and you get mainstream Australia driving past in tourist cars. I guess this film allows other Australians a glimpse of what it is like to drive into a place like this.