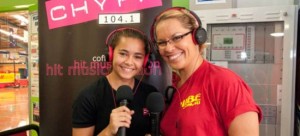 My name is Mayrah Sonter, proud Wiradjuri woman and head of events for Vibe Australia. I have the privilege of travelling throughout the country with the National Vibe 3on3® Basketball and Hip Hop Challenge (the Vibe 3on3®) and the Vibe Alive festivals.
Last year I visited 12 communities, met thousands of kids,  and worked alongside some inspirational role models and thought my experiences were too good not to share with others outside my Facebook page, so welcome to my monthly column where I will fill you in on what it's like to travel on the road with Vibe!
We have had a very busy start to 2012 with the Vibe 3on3® visiting four communities in Term One, first stop being Port Lincoln, which is just under an hour's flight west from Adelaide on the Eyre Peninsula. Did you know Port Lincoln is the seafood capital of Australia?
From South Australia, the entire crew then headed to Coffs Harbour in New South Wales. Local Gumbayngirr sister Emma Donovan performed and hung out with the kids at the event and I was also excited to meet the kids from the 'Speaking Hour Lingo' radio program who came along to interview the Vibe crew and role models on the day,.
Next up the crew travelled to Bairnsdale in the East Gippsland region in Victoria where our special guest was Uncle Kutcha Edwards.
Soon we're heading to Mt Isa in QLD, which will host a 3on3® on Tuesday 1st May – go to vibe.com.au to pre-register your teams now.
The Vibe Alive tour is also soon to get underway, so more about that next month. Until then, remember to study hard, eat well and do one thing every day that celebrates you!