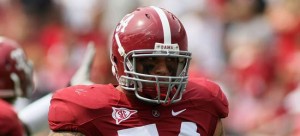 Jesse Williams  hasn't even finished college and yet the 21-year-old Indigenous Australian from Brisbane has already played on a bigger stage, and in front of more fans than most professional sportspeople will in their lifetimes.
If you haven't heard about Jesse yet, you are sure to be hearing plenty about this 193cm, 140kg athlete in the future, with the young man now being considered among the very best prospects in American College football.
Jesse is now such big news in the US that he usually opts to wear a hoodie around campus to avoid the growing attention from fans and other students – but being one of the biggest members of his team, it's not exactly easy for the Queenslander to blend into the crowd.
Remarkably, Jesse only began playing American football three years ago and is now being touted as a future first-round NFL draft pick. Earlier this month, Jesse played in the biggest American College football game of the year when his team, the University of Alabama's Crimson Tide (the second-ranked college football team in the US), played the number-one ranked team, LSU, in what was one of the major America sporting events of 2011 – with LSU winning 9–6 in extra time.
The Crimson Tide is a juggernaut of American college sports, whose homeground is the seventh largest stadium in the world. To provide some perspective on how huge the Crimson Tide are in their home state, over 90,000 spectators turned out earlier this year to watch one of the team's pre-season practice games!