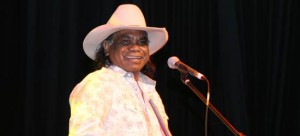 Warren H. Williams is one of the most celebrated indigenous identities in the local music scene. He has released many albums and recorded and performed with the likes of John Williamson, Greg Champion, Jimmy Little, Johnny Chester, Amos Morris and Ted Egan. He won a golden guitar at the country music awards of Australia in 2009. He also ran for the senate in 2010. He is now based in Alice Springs and he has a new album out called Urna Murra.
DEADLY SOUNDS: Our special guest today on Deadly Sounds is Warren H Williams, who many of us would know as a performer and also from the famous community that he comes from – Hermannsburg. He has a new album out called Urna Murra. Tell us about that Warren? 
WARREN: It means "good country" from Western Arunta.
DS: The song on it called 'Have A Great Life'. Tell us how you came up with that one?
WW: It came to me when I was going to LA. It was me saying, "Mate, I'm there" you know.
DS: The new album is dedicated to the late Gus Williams, OAM, who is Warren's dad. Are you still based in Hermannsburg?
WW: I have moved into Alice. I moved there for work, but also because it works for education, for schooling for the kids.
DS: Warren comes from a very musical family. Lots of singers come out of Hermannsburg, but also you have won a Golden Guitar at the Tamworth Country Music Awards, been in a number of productions, and released a lot of songs – many of our listeners might recall 'Raining On The Rock', that fabulous collaboration you did with John Williamson. Years ago, I had the wonderful opportunity of seeing you in a production about the anthropologists who came to Hermannsburg – what's happened with that production?
WW: That's about Ted Strehlow's family and my family, who had a close relationship for a long time. My grandfather saved Ted's life when he was a boy and from then on it was a close relationship. It was very good for me to be involved in that amazing story.
DS: It was an amazing show and it really showed the development of Hermannsburg because a lot of the old people there held a very high regard for Strehlow didn't they? 
WW: Yes. The real people respected him more than the white people. A lot of the white people didn't like him – especially the pastoralists and the government mob – they didn't like him because he was helping a lot of Aboriginal people. Back in the days when people were going around shooting people, Strehlow was one of the people who was there and stood up against them.
DS: It was an incredibly sad story because he was shown a lot of law and ceremony and the old people trusted him and then he moved back to Adelaide and passed away.
WW: It was sad, too, I mean in a way the thing he was looking after was too much for him. He was so well-educated in the laws of the land and of the people that sometimes it was just too much for him.
DS: Hermannsburg is the home of the famous Albert Namatjira. Growing up, Warren, how much of an influence was your father Gus and the whole legacy of Albert Namatjira – what effect did that have on you?
WW: A lot of people who came to Hermannsburg expected everyone to paint. With the mission, a lot of people got into music and that was good. Albert was really famous. He was like a superstar and thanks to people like him, they brought back the gramophone so that people could listen to music. It made it easier for people to learn music.
DS: Did you get a chance to see the production Namatjira?
WW: No. At the beginning I was involved but I became too busy.
DS: Not only is Warren a musician but he is also a writer and he has collaborated with a number of productions from operas to musicals but also he went into politics. In 2010, Warren stood for a Senate seat as a Greens candidate. How did that come about? 
WW: It was very humbling sometimes because up here the percentage of the Greens is only 2% or something, and we took it to about 13%. When they told me how many people voted for me I was stunned.
DS: That is amazing. You have got that profile. How important is politics for you?
WW: For me it is important. People out in the bush are never listened to properly. People keep coming in and saying they're looking after you – but they don't. It is more about looking after the land. The land is very special. Even the pastoralists up here have a hard time talking to anybody. I wanted to try and protect the country that we live on. It is more important for me to look after my land because my story, my culture is from the land.
DS: Warren had a very busy time in November and December launching the new album, but what is coming up for you over the next few months, Warren?
WW: In March, I will be releasing Winanjjara, which is called the Song Men. It is a language album, which we did in Tennant Creek.
DS: You are really passionate about keeping language alive.
WW: Yes, I am.
DS: Are we going to see you standing again at the next election?
WW: I don't know – I might be.
DS: It is a lot isn't it – you have to give so much?
WW: I know, but I always think it is what I have to do. I think I have been chosen to do this.
DS: Your father was a great song man and he certainly brought the voice of Western Arunta to the East Coast and you look great in an Akubra. Tell us Warren – when those politicians have to do something that's out on country why do they always don the brand new Akubra?
WW: I don't know. It's brand new and you think – why are you wearing that?
DS: And the moleskins.
WW: Yes it is a funny look when they come in the R.M. Williams clean clothes and polished shoes – it looks wrong.
DS: I haven't seen a stockman with polished boots for a long time.
WW: Neither have I.