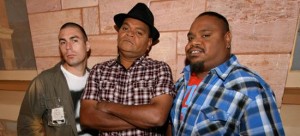 The Yabu Band and country singer/song writer John Bennett will square off for honours in the Indigenous Act of the Year category at this year's WAMi Awards in Perth.
Yabu Band, comprised of brothers Delson and Boyd Stokes, will be shooting for their fourth consecutive WAMi in the Indigenous category – an outstanding achievement given the exceptional Indigenous talent in Western Australia.
The boys have also just released their new single, 'Petrol, Paint & Glue', a powerful song sung in both English and Wongutha about the impact of substance abuse on Aboriginal society, and in particular, its impact on our young people.
"It's like a silent killer and it's important we stop putting it under the carpet and sing it in a way so you have hope and have life," says Delson.
"I am pleading with them, this song is like a prayer for them to wake up."
Yabu Band also embarks on a national tour this month, beginning on the 17 May at the Albany Entertainment Centre in Western Australia. The tour will include special guest and fellow WAMi nominee, Kimberley musician, John Bennett, who has had an outstanding year winning the WA Indigenous Song of the Year Award for 'Wangkaja' and a Song Writing Award for his track, 'Long Way Home' at the 2012 WA Country Music Awards.
The WAMi awards are held at The Bakery on Saturday June 2.