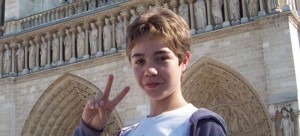 You only need to look at the recent success of Aboriginal opera singer Deborah Cheetham, the movie Bran Nue Dae, and chart-toppers Dan Sultan, Jessica Mauboy and Gurrumul to know Indigenous performers are making their mark on the local and international stage like never before. To help usher in our next generation of performance stars, a new scholarship has just been announced that will give budding Indigenous talent a major boost.
Making this opportunity possible is the Yalari organisation in partnership with the McDonald Performing Arts College, which is offering unique performance scholarships to the College for talented young Indigenous people with an interest in the performing arts.
"This partnership is about giving Indigenous children the chance to excel in the areas they are talented in. Two of our current students are exceptional performers and we want to ensure they receive the best chance to achieve their dreams of performing at the highest level," said Waverley Stanley, Founding Director of Indigenous scholarship provider Yalari.
The two students that Waverley mentions are Zac Collins-Widders and Liz Laughton. Zac has been studying at the Armidale School, and will now start Year 10 at McDonald College to further develop his passion for music and theatre. Jack has already played the lead in the Artes Christi production of Oliver at the Seymour Centre in Sydney and also plays the clarinet, saxophone, flute and piano.
Liz Laughton is currently in Year 10 at the Presbyterian Ladies College in Armidale. She is a past winner of the Australian Voice Scholarship and has ambitions to become a singer/songwriter.
When asked how they feel about entering Australia's first academic and performing-arts school, Zac said, "I have always wanted to go to a performing arts school, and now that I have the opportunity to go to one, I can't wait. This opportunity will open a whole new range of possibilities and I am so grateful. I am extremely excited and can't wait until 2012!"
Liz said, "I'm excited to be going to The McDonald College because of the opportunities I will be able to pursue and I can't wait to complete my schooling there. The McDonald College will give me the confidence to pursue my music after school, and the knowledge I'll gain and the practice I'll be able to do. I'm also so stoked to be able to board there. The boarding house looks like a supportive and happy place – almost like a home away from home. All in all, The McDonald College is for me."
So look out for these two ambitious young people in the future, and we hope to be hearing lots more about them and other deadly performers to take part in the Yalari scholarship in years to come!