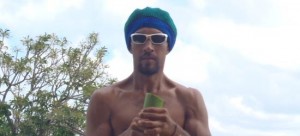 From Erub (Darnley) Island in the Torres Strait), 26-year-old Torres Webb is a young Indigenous leader who, after being away for some years, has returned home and is now planting the seeds of hope back into his community.
Torres was in the Indigenous Youth Parliament in 2009 and the Queensland Youth Parliament in 2010. He is also actively involved in the Asia Pacific Indigenous Youth Network and Oxfam International Youth Action.
Apart from all this he is currently working for the Torres Strait Regional Authority as a Senior Ranger. One aspect of this job that he loves is sharing his knowledge with local school children.
"We are going to see a big impact for tomorrow if we start with the kids. I have been educating them about environmental issues – we are affected by erosion and climate change and sea level rises here," Torres says.
"As part of being a ranger, we go and talk to them and show them the climate change impacts that are happening on our coastlines and we do beach cleanups and things like that. The kids get their hands dirty and plant a few trees as well, so they can learn how to look after them and revive some of our cultural practices."
He has been planting a lot of exotic, tropical fruit trees on his property, including paw paw, bananas and avocados to provide another fresh food source for the community.
"This is food for the community. I came back to the community after living and working in Canberra and I started planting trees because this was our traditional practice, but people weren't continuing on with it because of the easy access to food from the store."
But he says the imported food is often expensive and not fresh, due to the remoteness of the island.
"I thought if I could lead by example, I might be able to encourage other community members to plant as well," he says.
Torres is passionate about closing the gap between Indigenous and mainstream Australia and he has completed a degree in Applied Science. He is an inspiration to others in his community, especially young people.