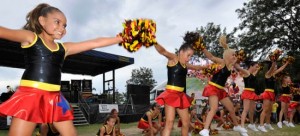 They're full of energy, perform amazing acro and are definitely black and deadly – the All Original Sista Girlz Cheers Squad complete with their cheerleading pom poms and costumes in Aboriginal colours are more than a sideline spectacle, they're centre stage with audiences and a hit wherever they perform.
The squad is the first Aboriginal and Torres Strait Islander Cheer Squad on a state and national level and is made up of girls ranging from eight to 20 years of age. Their first big gig was at Buhmela Festival, forming a guard of honour for the Indigenous All Stars arrival and then later in February cheering on the All Stars at Skilled Park, Gold Coast.
Throughout 2011, the girls have cheered at numerous NRL junior and senior matches, NAIDOC events, the Queensland Murri Carnival and at the Maori vs Aboriginal and Torres Strait Islander league game.
The Squad's mentor is Valmai Saunders who's passionate about the opportunities available for the Sista Girlz.
"We have a lot of girls from different language groups from across Queensland. On the Gold Coast (where the squad is based) there is this perception that the population is all non-Indigenous, but there are a lot of Indigenous people living there and the squad allows the girls to come together and share something they love and have a passion for," Val says.
"Yes it's exciting to perform at the All Stars games, but the squad is also about building self-confidence, self-esteem and cultural pride."
Val says the girls train hard to perform at an elite level. They receive dance training from the Ikin Dance studio, perform acrobatics, stunts and dance as part of their routine.
"There's a lot of skill in that and a high level of concentration involved," she says.
"Their coach Hannah trained at the Australian Institute of Sport … being in the squad provides the girls with opportunities. One of our girls is on the 'I Can Dream Team' and she may not have had the opportunity otherwise.
"I was brought up on a mission and I'm passionate about giving these girls the opportunities I didn't have."
2012 is shaping up to be another busy year where they'll be cheering at the Gold Coast Titans home games.