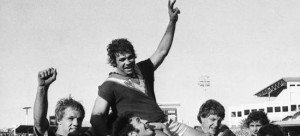 For Arthur Beetson – the man who'd go on to become one of the great icons of Australian sport, one of rugby league's seven Immortals, the first Aboriginal person to captain an Australian sporting team and the figurehead of State of Origin football – it all began in the Queensland country town of Roma, where Artie grew up.
Arthur's mother was a member of the Stolen Generations, and in his typical jovial fashion he joked that whenever an unknown car would pull up out the front, his mum would rush all the kids into hiding places – all except him because, as he put it, he was a real pain in the backside as a kid.
This was Arthur Beetson and exactly how he will be remembered by those who had the pleasure of spending time with the big fella. Warm, kind hearted, always joking, always laughing, a man who understood the importance of never taking things too seriously and the power of humour to get you through the hard times. A gentleman, who possessed a unique charisma and charm that made you just want to be around him.
His first steps towards greatness on the rugby-league paddock were taken on the hallowed turf of Dolphin Oval, Redcliffe, where he arrived from Roma in 1964 as a precocious 18 year old to begin his first-grade career.
Fittingly, Dolphin Oval was where friends and family gathered to say their final goodbyes last month – Arthur's coffin was carried onto the field via the same tunnel through which he had run as a young man on his way to greatness.
In 1965, he was named the Dolphins' Player of the Year, leading Redcliffe all the way to a Premiership. Soon after, he headed for Sydney where he played for the Balmain Tigers in the 1966 Grand Final against St George. In the same year, Artie played his first game for Australia, scoring twice on debut against England.
He made an immediate impact on rugby league in New South Wales. He was unlike any player anyone had seen before. Big, quick, agile and tough as nails – his unique skills and ability to offload the ball revolutionised the way forwards played the game. He was also an indomitable leader of men, who steeled his teammates' confidence, simply by standing among them.
After a spell with English club Hull Kingston Rovers in 1968, Artie joined Eastern Suburbs (the Roosters), and in 1974 and 1975 he captained the side to back-to-back Premierships – his team earning a place in the history books after going unbeaten in 34 consecutive matches and winning the 1976 World Club Challenge over English champions St Helens.
He captained Australia during the Kangaroo tour of 1973, his teammates crediting Artie's presence as the defining factor in overcoming the strong, intimidating and notoriously dirty tactics of the English pack. All up, Artie played 14 tests in the green-and-gold jersey.
In 1979, Artie switched clubs once more, this time joining the Parramatta Eels for the 1979 and 1980 seasons, and in 1981, he returned to where it all began, Redcliffe and Dolphin Oval for one last hurrah as captain and coach.
In 1980, he also captained and coached the first Queensland State of Origin squad. When he led the underdog Maroons onto the field with a fire in his belly and a score to settle, tearing into his former club teammates from Sydney with venom, the ethos of mate-against-mate, state-against-state that State of Origin football thrives on was born.
After retiring, he went on to coach Australia (1983), Easts (1985-88 and 1994), Cronulla-Sutherland (1992-93) and Queensland (1981-84 and 1989-90). Post retirement, he also went into the hotel business, owning several establishments at different times, and the later stages of his life were devoted to his work as a talent scout, unearthing future champions of the sport, and touring the country extensively for charity and community work. At the drop of a hat, Arthur would drive for hours to help keep a country rugby-league club afloat or speak at a community event.
Artie's achievements on the field were surpassed only by his larger-than-life persona off it. One of Australian sport's great characters, the nickname that stuck most was 'Meat Pie Artie', a reference to his voracious appetite and larrikin nature, a persona that he helped perpetuate due to his fun-loving nature.
His death last month has deeply affected many in the Australian sporting community, both black and white, as he stood as such an important figure, and symbol, in the lives of so many people.
Over the following three pages, some of the men who played with and against Arthur share their recollections of the great man, his life and legacy, courtesy of Aboriginal sports radio program Black Gold.
Humble achiever
Former Canterbury Bulldog, Brisbane Bronco and Queensland origin player, Tony Currie says Arthur Beetson was far more than just a coach.
"I'm 49 this year and my association with Arthur goes back to when I was 18 years of age when I played against him at Dolphin Oval after he came back to play for Redcliffe in 1981.
"He was 36 years of age and made a break about 30 metres out, I was fullback and about 75kg wringing wet – Arthur was probably 17 stone (108kg), with a turn of speed that could leave you dazzled. He came at me, straightened me up, and took me on the outside.
"Now, I was no slouch at 18, I could run, and he beat me into the corner for a four pointer.  I learnt something that day: that Artie had much to give. He gave that much to Redcliffe that year and they ended up making the Grand Final.
"I then came to meet Artie in 1982 in the Origin series when he was coach, and I just knew from being around the other Origin players how much he really meant. I mean, we were all nervous young boys back then, playing against the big guys at the SCG in a decider, and he was just a calming influence. He had an answer for every situation and
I guess that's what you get when you have experience, but it was more than just being a coach, he was a mentor and a father figure.
"With all the accolades being thrown up, being named an Immortal, making the Team of the Century, the Grand Finals, the Origins, everything he's done in the game, Arthur was such a humble man. In some ways I thought he was a little bit embarrassed to get the accolades, and he always did shy away from that kind of stuff, but he deserved everything.
"He had his morals, ethics and beliefs, and he never wavered from them – the aura around Beetson was of someone who was true, loyal, honest, humble, and his opinions always meant something. Sometimes he didn't agree with the establishment, towards the end he disagreed with the way rugby league was going, and rightly so in some instances.
"I think we've lost someone who impacted us, not only rugby league wise, but also in mainstream Australia, in Indigenous Australia, he had an impact, and I'm a better man from knowing him."
Maroon legacy
Current Maroons' coach Mal Meninga explains how Arthur set the mould for a Queensland origin player.
"In Queensland, we talk about Arthur in the same breath as Senator Ron McAuliffe and Kevin Humphreys, who were the respective Chairmen of the Queensland and New South Wales Rugby Leagues and made State of Origin football a reality, and Arthur was integral to that.
"Arthur always indicated through his career how much he wanted to pull on the Queensland jersey, and he got that chance in 1980, nearing 36 years of age – there were 30,000 people there, it was the loudest crowd in State of Origin history and they all came to watch Arthur play and lead the Maroons onto the footy field.
"When you put the Maroon jersey on, you play with pride, you never give up – all of those traits that resemble a Queensland player, he sort of led that trend for us. He gave us the self-belief … that whenever we put that jersey on: you're a chance of winning. Prior to that, we were getting our bums smacked by New South Wales all the time.
"So he was all those things that represent what a player has to have in his system to play rugby league for Queensland – he started it. We have to have an understanding that he started it, and make sure we carry it on."
 The Pied Piper
Another legend of Queensland origin football, Chris 'Choppy' Close remembers what it was like to be coached by one of Australian sport's great leaders.
"We had a lot of fun, Arthur and I. He was 35 when I played with him at Redcliffe in 1981, and I was 21, so there was a vast age difference, but he had this magnetism about him that just drew you in. He had a charisma and a real presence about him that made you just want to be where he was.
"It was his last year actually, we loved him, he was just like the Pied Piper – wherever he went we followed, whatever he asked us to do, we did. He did everything with great fun and you never felt threatened. You always felt that you were doing something that was fun, and because of that he didn't ask you to do things, you just did it for him, you wanted to do it, you wanted to win, you wanted to be your best, you wanted to play your best for him because even at 36 he was giving everything he had, and we felt obliged to follow suit.
"He was very intelligent, he was a very smart person, and he knew what it took to be a rugby-league player. He had an uncanny knack to be able to unearth someone that other people might pass by. He could find a character trait or a little touch of toughness that most other people would miss, and it was because he loved people. He was a very sociable person, and he loved to see people succeed. He went out of his way to give people advice. Many of the men he identified as a scout have gone on to become champions of their sport, so he knew what he was doing.
"Arthur was a very humble man, and I think the greatest lesson he taught me was the importance of humility, of knowing how to be humble and what that meant, and how that sort of drew other people to you. That was a really important trait. One of the other things was, Arthur was always tough – he taught you how to be tough, not how to act it. There's a huge difference between acting tough and being tough. Being tough is getting the job done under all circumstances, through all conditions – you get the job done.
"The other thing he taught us, right from the word go, was that we were equal. At that time, we thought the rugby-league players from New South Wales were gods, that we couldn't beat them, that they were unbeatable. He came along and he spoke to us, and the way he put it … he looked us all in the eye and said, 'You've got to realise that these guys have got two arms, two eyes and two legs, and if you don't think you can beat them then you want to go home now' – when a bloke who's six foot four and has the presence that Arthur had says those things to you, they stay with you for life. So everything that he spoke about, everything he did, he knew that he could back it up, and it wasn't just talk, it was experience. So we were more than happy to give everything we could to make sure we didn't let him down. He's just one of those guys whose spirit and persona will live on forever. "
 Heart of gold
Rivals on the field and great mates off it, Tommy Raudonikis and Arthur Beetson travelled the country together, raising money for charities and sharing their great yarns.
"I feel like at any moment Arthur will walk through the front door, because he didn't live far from me. It's still hard to believe that Arthur has left us. We had so many tours around Australia and, geez, they were great tours.
"Apart from being the greatest footballer I'd ever seen, he was just a wonderful character, and everywhere he went people were in awe of him, because he stood out, and he was just a wonderful man.
"We went to Cooma one time, and we had to go over to Peak Hill where some young Aboriginal boys had died in a fire – we had a fundraiser that night. We talk about Arthur Beetson being a great footballer, a great bloke and a great ambassador for Aboriginal people, but people don't realise how kind of heart he was. That night he would have spent at least $5000 on the memorabilia, which he had brought with him in the first place, and the next morning he gave all the memorabilia back.
"Everywhere he went, people took notice of him. In some of the old photos of him, when he was young, he actually reminds me a bit of a young Cassius Clay, because he was a good-looking man, and he was a tower of a man – there was more about him than just playing football. He was more than a great footballer, he was a great bloke, and a great friend of mine."