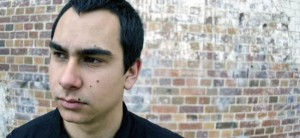 Cy (aka Josh Marshall) is a 17-year-old rapper, music producer and graphic designer from Stanthorpe who has already developed his own Hip Hop label. He has also just released his second album and is working with major local and international rappers. Not bad for a young bloke who only started making beats in 2010.
Armed with only a $100 microphone, tiny monitor speakers and a mattress stapled to the wall for soundproofing, Cy started piecing together his first mixtape, The War Has Just Begun, in 2010.
Growing up wasn't easy for Cy. He witnessed the incarceration of his mother, then the passing of his stepfather, followed by the passing of his mother from a heart attack, all before the age of nine.
In 2003, his family moved to Stanthorpe on the New South Wales/Queensland border. Here he found his love of music. In 2009, he started writing, recording and producing his own.
On his first album, Cy worked with underground hip-hop artists, getting credits from some of the best rappers and producers in Australia, including SneakE1, Justice and T-Dub.
In March 2011, he established C.Y Entertainment, a label that has already become the home of seven artists.
"It is a label, but it is more about helping artists. Two years ago, I had no idea what I was doing. This year I have studied graphic design and music production more in depth and started C.Y Entertainment," he says.
In early 2011, Cy won the Indigenous Musician of the Year Award at the National Youth Week Awards and was also nominated for Best Producer at the 3rd Annual National Indigenous Hip-Hop & RnB Bump Music Awards.
"I felt great winning that award, but it was strange to hear my music life put in a paragraph or two. I enjoyed performing at the after party, too – there is nothing like performing. I hope to do a few shows in Sydney and Melbourne in 2012," he says.
Cy is constantly updating his skills in music production, sound engineering and graphic design.
"I am hoping to improve the quality on what I did with The War Has Just Begun. With each new project I learn more. I finish one project and then I start another," Cy says.
In December 2011, Cy released the mixtape D.R.E.A.M.S online. This album featured
over 15 collaborators from as far away as Africa, Jamaica, England and America.
However, the release of D.R.E.A.M.S gave this chronic insomniac no cause for rest. Plans for the first half of 2012 include lots of graphic-design work for artists around the world, a six-song EP and another two mixtapes.
When Deadly Vibe caught up with Cy, he'd just done an all-nighter.  "I haven't slept. I recorded a song yesterday and I've been up all night mixing it, just trying to perfect it."