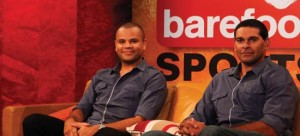 In the Barefoot Rugby League and the Marngrook Footy shows, NITV proved its chops in producing sports programming equal to and even surpassing that of mainstream counterparts. Marngrook became so popular in fact that it earned itself a gig on SBS television, and Barefoot is well regarded as A place league fans go to for real footy talk and analysis without the gimmicks.
Building on the success of both of these shows, NITV is now going one step further, launching an all new all-encompassing Aboriginal sports program called Barefoot Sports which will premier on Thursday 1 March at 7:30pm AEDT.
Led by Barefoot Rugby League's Brad Cooke, also joining the panel is well known actor and Rabbitohs tragic Luke Carroll, an avid sports fan who's already provided side line commentary at the Koori Knockout, and former Cronulla Sharks and South Sydney league icon, David Peachey.
Mark Ella, Head of NITV Sport, said highlighting Indigenous sporting achievement has been a driving force behind the new show. "We have so many stories to tell, so many of our mob achieving through sport at local, national and international levels," says Mark.
Brad says that he's looking forward to challenging his knowledge beyond Rugby League and bringing us all the latest news from around the country in Aboriginal sports.
The program is an hour long and will be weekly on Thursdays at 7:30pm from a studio setting – a must-watch for all you sports nuts out there.