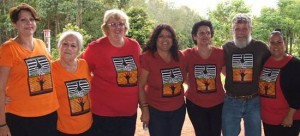 The Awabakal Aboriginal Medical Service in Newcastle has been providing health services to Aboriginal and Torres Strait Islander people for over 25 years. These services have been provided through the GP clinic at Hamilton as well as through outreach services at Karuah, Singleton, Toronto and East Maitland.
Recent figures from the Australian Bureau of Statistics show the Hunter region has the highest Indigenous population of NSW in an urban setting. As such, the Awabakal Aboriginal Medical Service (AMS) is a very busy place.
"We have 3.5 fulltime doctors and thousands of regular clients. It is on par with a huge practice," says Awabakal Medical Service Manager Liz Harwood.
"We are coming from the angle of  the prevention of chronic disease rather than the cure – it is a great idea but you get too caught up with caring for acutely sick people to be completely pro-active."
There are four administrative staff and 15 health workers at the centre.
"We got too big, so some are working out of another building," says Liz.
"We have outreach services that deliver chronic care packages such as a podiatrist, dietician, as well as diabetes and healthy lifestyle educators."
"There are also Mums and Bubs Programs, as well as drug and alcohol, sexual health, mental health workers and visiting specialists. We have a big Otitis Media program
Liz says the Awabakal AMS held a Close the Gap in the Hunter Day on March 22.
"We decided to target stakeholders in chronic care and it was held at the University of Newcastle. We invited police and chemists and anyone that we deal with regarding chronic care. Over 100 people turned up," she says.
"National Close the Gap Day was a way for all Australians to join together and remind our political leaders of their commitments to close the life expectancy gap between Indigenous and non-Indigenous Australians within a generation.
"Our focus for 2012 is on the need for genuine, meaningful partnership with Aboriginal and Torres Strait Islander peoples at all stages of health planning and delivery. The theme of this year's event is "Power through Partnerships".
The medical service is part of the Awabakal Newcastle Aboriginal Cooperative Limited, which was established in 1976.
Other programs that the centre runs include: children's services, youth services, housing information, Elders, disability and transport services, and dental services.
The Awabakal Newcastle Aboriginal Cooperative Limited is located at 8-10 Hudson Street, Hamilton. For more information contact them on (02) 4940 8103.